Minster of Health and Deputy Premier Sarah Hoffman has been nominated as the New Democratic Party candidate in Edmonton-Glenora for the next election. Hoffman was first elected as MLA for this district in 2015 with 68 percent of the vote, unseating two-term Progressive Conservative MLA Heather Klimchuk. She previously served two terms on Edmonton's Public School Board including as chair from 2012 to 2015.
Hoffman has managed to navigate her role as Health Minister, a large and challenging department, and continue to serve as Premier Rachel Notley's chief political lieutenant. As I have written before, she is a contender for strongest member of cabinet, and is on my list of cabinet ministers who I believe are future Premier material.
MLA Dave Hanson fended off two challengers to secure the United Conservative Party nomination in the new Bonnyville-Cold Lake-St. Paul district today. City of Cold Lake mayor Craig Copeland, who also ran for the PC Party in Bonnyville-Cold Lake in the 2015 election, and private school administrator Glenn Spiess, were unable to unseat Hanson in this contest.
Hanson was endorsed by former Wildrose Party leader Brian Jean, who served as the MLA for Fort McMurray-Conklin until resigning earlier this year. Copeland had the endorsement of Fort McMurray-Cold Lake Conservative Member of Parliament David Yurdiga.
At a candidate forum held before the vote, all three candidates, including Hanson, expressed their support for the further privatization of health care in Alberta.
The nomination contest in this district initially looked as if it would be a contest between Hanson and Bonnyville-Cold Lake MLA Scott Cyr, but Cyr dropped out of the contest in April 2018.
Hanson was first elected in 2015 as the Wildrose MLA for Lac La Biche-St. Paul-Two Hills. He currently serves as UCP Indigenous Relations critic.
Upcoming Nomination Meetings
On September 13, 2018, UCP members in Calgary-Elbow will choose either past city council candidate Chris Davis or former party leadership candidate Doug Schweitzer as their candidate in the next election. Schweitzer is a lawyer who briefly considered running for the PC Party leadership in 2017 before dropping out and later running for the UCP leadership, where he placed third with 7.3 percent of the vote. He served as CEO of the Manitoba PC Party from 2008 to 2009 and was manager of Jim Prentice's campaign for the leadership of the PC Party in 2014.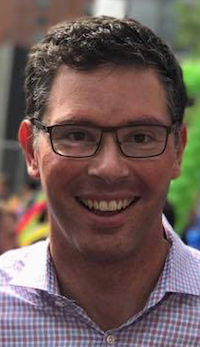 Schweitzer is endorsed by Chestermere-Rockyview UCP MLA Leela Aheer, former PC MLA and cabinet minister Jim Dinning, and former Calgary mayoral candidate Bill Smith. And Davis is endorsed by retired oil company executive Allan Markin and Kudatah leader George Clark.
Whoever wins this nomination will face Alberta Party MLA Greg Clark, who was first elected as MLA for Calgary-Elbow in 2015.
UCP members in Grande Prairie-Wapiti will choose their next candidate on September 14, 2018. With incumbent UCP MLA Wayne Drysdale not seeking re-election in 2019, party members will choose between Sexsmith town councillor, family literacy coordinator and former bible school registrar Kate Potter and former president of the Canadian Cattlemen's Association Travis Toews.
Toews is being endorsed by Walter Paszkowski (MLA for Smoky River from 1989 to 1993, and MLA for Grande Prairie-Smoky from 1993 to 2001),Everett McDonald (MLA for Grande Prairie-Smoky from 2012 to 2015), and County of Grande Prairie councillor Peter Harris.
Former Liberal Party MLA Mo Elsalhy is expected to be nominated as the Alberta Party candidate in Edmonton-South West on September 15, 2018. Elsalhy was the MLA for Edmonton-McClung from 2004 and 2008 and ran for the party leadership in 2008. He attempted a comeback in 2012 but was unable unseat PC MLA David Xiao. During his time as MLA he served in various critic roles, including as Official Opposition critic for Justice and Public Safety, and Innovation and Science.
UCP members in Edmonton-Rutherford will select their next candidate on September 15, 2018.  Four candidates are seeking the nomination: MacEwan University assistant professor Rafat Alam, Shaun Collicott, Laine Larson, and Hannah Presakarchuk.
CBC reported in May 2018 that Larson has questioned vaccination science and has suggested parents may be harming their children by vaccinating them against disease. Larson is an independent contractor and the step-son of former Reform Party Member of Parliament Deborah Grey.
NDP MLA Danielle Larivee is expected to be nominated as her party's candidate in Lesser Slave Lake on September 16, 2018. Larivee was first elected in 2015, unseating seven-term PC MLA Pearl Calahasen. Larivee currently serves as Minister of Children's Services and Minister for the Status of Women.
Marvin Olsen expected to be chosen as the Alberta Party candidate in Fort Saskatchewan-Vegreville on September 16, 2018. Olsen is the owner of Grim's Contracting Ltd. Previously declared nomination candidate Campbell Pomeroy withdrew his name from the contest.
Here are some of the latest updates to the list of candidates running for party nominations ahead of the 2019 Alberta provincial general election:
Calgary-Klein – Julie Huston has withdrawn from the UCP nomination contest.
Calgary-Lougheed – Rachel Timmermans has been selected as the Alberta Party candidate in this southwest Calgary district. Timmermans, a Mount Royal University policy studies student, will face UCP leader Jason Kenney in the next election.
Calgary-North – Tommy Low is seeking the UCP nomination.
Calgary-North East – Gurbachan Brar is seeking the NDP nomination in this new north east Calgary district. Brar is a former President of the Punjabi Likhari Sabha and a former broadcaster at RED FM 106.7.
Camrose – Kevin Smook is seeking the Alberta Party nomination. Smook is councillor for Division 1 on Beaver County council, where he was first elected in 2013. He served as Reeve of Beaver County from 2014 to 2017.
Edmonton-Rutherford – Aisha Rauf defeated Arnold D'Souza to secure the Alberta Party nomination. She is an instructor and according to her website biography is waiting for her PhD Linguistics thesis defence. She was interviewed in a September 2017 episode of the Broadcast.
If you know any candidates who have announced their intentions to stand for party nominations, please send me an email at david.cournoyer@gmail.com. I will add them to the list. Thank you!
---
Former NDP leader, school trustee Ray Martin releasing new book
Former MLA Ray Martin is releasing his memoir, "Made in Alberta: The Ray Martin Story" on September 27, 2018.
Martin is the former leader of the Alberta NDP and served as leader of the Official Opposition in the Legislative Assembly from 1984 to 1993. He was elected as the MLA for Edmonton-Norwood from 1982 to 1993 and Edmonton-Beverly-Clareview from 2004 to 2008, and ran for the provincial NDP in 9 separate elections between 1975 and 2012. He most recently served as a trustee on the Edmonton Public School Board representing Ward D from 2013 to 2017.
Martin's decades worth of experiences in Alberta politics will certainly mean he has many interesting stories to tell. I am definitely adding this new book to my Fall 2018 reading list.