Alberta MLAs will return to the Legislature for a spring sitting on March 10, 2015, the Progressive Conservative Party plans to have candidates nominated in all 87 constituencies by March 15, 2015 and Finance Minister Robin Campbell is expected to introduce a provincial budget in late March. It would be hard to find stronger indicators that an April 2015 provincial general election is on the horizon.
And as the PC Party plans to hold 35 nomination meetings on a February 21 "Super Saturday," candidates have already begun to step up to run for nominations. The quickly approaching deadline and impending election will also force incumbent MLAs whether they will seek another term in the Legislative Assembly.
In Lethbridge-East, PC MLA Bridget Pastoor announced this week that she would not seek re-election. The departure of the three-term MLA, who was elected as a Liberal in 2004 and 2008 before crossing the floor in 2011, will make Lethbridge-East a race to watch in the next election. Before Ms. Pastoor's floor crossing, the constituency had been represented by Liberal MLAs since 1993.
With the prospect of gains following Shannon Phillips impressive performance in Lethbridge-West in 2012, the NDP chose Maria Fitzpatrick as their Lethbridge-East candidate this week in a three-way contest.
In the heart of oil sands country, Fort McMurray-Conklin MLA Don Scott and Fort McMurray-Wood Buffalo MLA Mike Allen announced they will once again seek the PC nominations in their constituencies. Mr. Allen may face a nomination challenge following his controversial first term, which included being arrested on prostitution related charges while on a government trip to Minneapolis, USA and his resulting time as an Independent MLA. He was fined $500 plus court costs after pleading guilty and was allowed to rejoin the PC caucus.
In Airdrie, the retirement of PC-turned-Wildrose-returned-PC MLA Rob Anderson has led to speculation that 2012 PC candidate and city councillor Kelly Hegg and Mayor Peter Brown may seek the PC nomination.
In Medicine Hat, Wildrose-turned-PC MLA Blake Pedersen could face two challengers for the PC nomination. Former city councillor John Hamill, 77, has expressed interest in the nomination, as has 2012 PC candidate Darren Hirsch.
Danny Fieldberg has announced plans to seek the PC nomination in Cypress-Medicine Hat , a constituency currently represented by Wildrose MLA Drew Barnes. Mr. Barnes is looked at as potential leadership replacement for retiring Calgary-Fish Creek MLA Heather Forsyth, who has served as interim leader of the Wildrose Party since Danielle Smith abandoned her former party on December 17, 2014.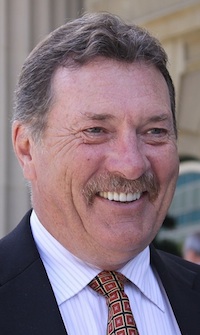 Stettler County councillor Greggory Jackson announced plans in November 2014 to seek the PC nomination in Drumheller-Stettler. The constituency is currently represented by Wildrose MLA Rick Strankman. Former PC MLA Jack Hayden and former business owner Ed Mah have also announced plans to enter the PC nomination race.
Olds Town Councillor Wade Bearchell has announced his intentions to challenge Wildrose-turned-PC MLA Bruce Rowe for the PC nomination in Olds-Didsbury-Three Hills.
"My sense is that people are angry and upset and I know that the people of the constituency want somebody that they can believe in — that they trust," Mr. Bearchell told the Olds Albertan in response to Mr. Rowe's floor crossing on Dec. 17, 2014.
---
I have updated the list of nominees and nomination candidates planning to run in Alberta's next general election. Please email david.cournoyer [at] gmail.com if there are additions to the list. Thank you.