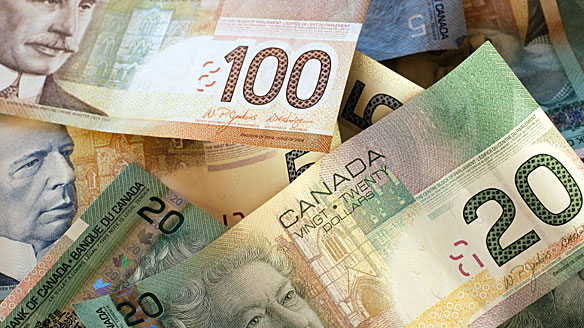 Elections Alberta has released the financial disclosure forms submitted by candidates who ran in the April 2012 provincial election and some of the disclosure forms reveal some interesting information about how much money was fundraised and spent during the campaign. The money spent by candidates and political parties in Alberta elections are nowhere near the truckloads being spent south of the border in advance of November's presidential and senate elections, but some of these numbers demonstrate how pitched some electoral battles were in the recent provincial election. Although money cannot replace hard-working candidates and dedicated volunteers, it makes available resources that can, in many cases, make a big difference in pushing a candidate to electoral success.
It appears that the most expensive race between two candidates was in Calgary-Elbow, where Premier Alison Redford faced Wildrose Party challenger James Cole. While Premier Redford's campaign spent a massive $154,345.53, Mr. Cole's campaign was not far behind, spending $123,647 during the election period.
South of Calgary in the Highwood constituency, the campaign of Wildrose Party leader Danielle Smith (named Marlaina Danielle Smith by Elections Alberta) spent only $55,010.97 compared to the $90,706.19 spent by the campaign of Tory challenger John Barlow.
In the hotly-contested constituency of Calgary-Acadia, Wildrose challenger Richard Jones spent 69,335.39 on his unsuccessful campaign to unseat Justice Minister Jonathan Denis, whose campaign spent $71,246.45. Airdrie MLA Rob Anderson, who crossed the floor to the Wildrose Party in 2010, saw his campaign spend $77,295.20, which dwarfed the $32,411 spent by the campaign of his main challenger Kelly Hegg.
In the long-time Liberal-held Edmonton-Gold Bar constituency, Tory David Dorward's campaign spent $77,732.39, NDP Marlin Schmidt's spent $38,400.73, and Liberal Josipa Petrunic's spent $33,079.39. The contest was won by Mr. Dorward, who was elected with 33% of the vote. In Calgary-McCall, Liberal MLA Darshan Kang's campaign spent $82,629.80 to ward off challengers Tory Muhammad Rasheed and Wildroser Grant Galpin, whose campaigns spent $87,327.25 and $27,695.12.
In Edmonton-Rutherford, Tory Health Minister Fred Horne's $108,327.30 campaign easily outspent a wide field of challengers. Former Liberal MLA Rick Miller's campaign spent $41,117.36, the campaign of Alberta Party candidate Michael Walters spent $30,085.18, and Wildrose challenger Kyle Mcleod's campaign spent $23,477.51.
In many cases, the Tory MLA's vastly outspent their main challengers (which in most cases, was the local Wildrose candidate). In Calgary-Greenway, Tory Manmeet Bhullar's campaign spent $133,294 against challenger Ron Leech's $14,078.05 campaign. In Fort McMurray-Conklin, the campaign of first-time Tory candidate Don Scott spent $110,955.44 to Wildroser Doug Faulkner's $21,011.41. In Edmonton-Whitemud, Tory cabinet minister Dave Hancock's campaign spent $121,233.35 to Wildrose challenger Ian Crawford's $11,598.73. In Calgary-West, Tory candidate Ken Hughes' campaign spent $111,796.33 compared to $31,781.49 from Wildrose challenger Andrew Constantinidis.
In some cases, outspending a challenge made little difference for incumbent Tory MLAs. In Chestermere-Rockyview, Energy Minister Ted Morton's campaign spent $159,618.90 compared to Wildrose challenger Bruce McAllister's $48,062.69. Mr. McAllister defeated Minister Morton on election night.
There were some other surprising finds as well. In Lethbridge-West, the campaign of NDP candidate Shannon Phillips spent $48,852.88 compared to PC MLA Greg Weadick's $39,394.54. This was also the NDP's best showing outside of Edmonton.
The 'Maurice Tougas Award for Electoral Victory on a Shoestring Budget' goes to Wildrose MLA Jeff Wilson, who was elected in Calgary-Shaw for the first time in April 2012. Mr. Wilson was one of the last Wildrose Party candidates to be nominated and defeated Tory star candidate Farouk Adatia, who outspent the Wildrose challenger $78,347 to $15,358. Less extreme cases took place across central and southern Alberta, where Wildrose candidates were elected in long-time Tory voting constituencies.
The award is named after writer Maurice Tougas, who served as the Liberal MLA for Edmonton-Meadowlark from 2004 to 2008. Mr. Tougas' campaign spent $5,366.55 in his last minute campaign against Tory MLA Bob Maskell, whose campaign spent $46,957.00. Mr. Tougas unseated Mr. Maskell on election night.
Note: I had hoped that I would be able to provide a more comprehensive list of numbers from the financial disclosure. Unfortunately, the unfriendly interfaced used by Elections Alberta on their website did not allow me the time to complete this. Rather than transferring the data into easily searchable and useable formats on their website, Elections Alberta provides PDFs of scanned paper forms which were completed in handwriting by the candidate's Chief Financial Officers (the writing ranges from chicken-scratch to cursive). It is my hope that in the near future, Elections Alberta is able to build a more user-friendly website that allows Albertans to more easily access these important records.