With the four provincial by-elections over, the focus will soon turn back to nominating candidates to stand in Alberta's next general election. The next election is scheduled to be held sometime between March 1 and May 31, 2016, but can be called earlier if premier requests the Lieutenant Governor to issue a writ of election.
The Wildrose Party and the New Democrats are the first out of the starting gate with the most nominated candidates and nomination contests currently underway.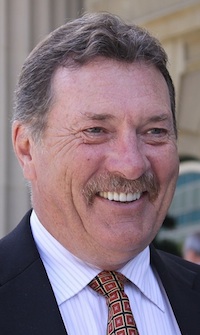 Blast from the past?
Two defeated Progressive Conservatives MLAs are not ruling out a return to politics in the next election. Former Cypress-Medicine Hat PC MLA Len Mitzel, who was defeated by Wildrose candidate Drew Barnes in 2012, told the Medicine Hat News he has not ruled out a comeback in 2016. And in Drumheller-Stettler, former Infrastructure Minister and registered lobbyist Jack Hayden is said to be mulling a 2016 bid. Mr. Hayden was unseated by Wildroser Rick Strankman in 2012.
Bonnyville-Cold Lake
Accountant Scott Cyr and architect Dixie Dahlstedt are facing off for the Wildrose Party nomination. Ms. Dahlstedt is a Daughter of the American Revolution who recently returned from a career in New York City to raise quarter-horses near Therrien, Alberta.
Calgary-Bow
The Wildrose nomination in this west Calgary constituency has been set aside as a open spot for a candidate to be appointed by leader Danielle Smith. Rumours have been circulating for some time that Ms. Smith is working hard to recruit Canadian Taxpayer Federation spokesperson Derek Fildebrandt as the Wildrose candidate in Calgary-Bow. Mr. Fildebrandt is an outspoken critic of the PC Government and has targeted Premier Jim Prentice with FOIP requests dating back to his time in Ottawa.
Calgary-Elbow
Both Alberta Party leader Greg Clark and Liberal candidate Susan Wright have declared their intentions to seek their parties nominations to run in the next provincial election. In the recent by-election held on Oct. 27, Mr. Clark placed a close second with 26.94% of the vote. Ms. Wright placed fourth with 11.99%.
Edmonton-Manning
On September 30, Heather Sweet was acclaimed as the NDP candidate in this northeast Edmonton constituency. Ms. Sweet is a registered social worker working in child protection and is member of the Alberta Union of Provincial Employees' Committee On Political Action.
Edmonton-Rutherford
The NDP are holding a nomination meeting on November 5, 2014 in this southwest Edmonton constituency. Former City Council candidate and social work instructor Richard Feehan and 2012 candidate Melanie Samaroden are running for the nomination.
Grande Prairie-Smoky
Construction company manager Greg Tymchyna is seeking the Wildrose Party nomination in this northwest Alberta constituency. Now living in Grande Prairie, Mr. Tymchyna is also a homeowner in High River, where he is part of a legal battle seeking more compensation from the provincial government for flood damaged homes.
Lesser Slave Lake
Registered Nurse Danielle Larivee has been nominated as the NDP candidate in this rural northern Alberta constituency. Ms. Larivee is the President of the United Nurses of Alberta Local in Slave Lake.
Lethbridge-East
Kris Hodgson has tweeted his plans to seek the New Democratic Party nomination in this southern Alberta urban constituency. Mr. Hodgson is a Lethbridge College journalism instructor and president of Allied Arts Council. Earlier in the summer, Lethbridge College political scientist and former city councillor Faron Ellis declared his candidacy for the Wildrose Party nomination.
Medicine Hat
The NDP are holding a nomination meeting on November 12, 2014. Paramedic Jason Soklofske is expected to be acclaimed. Mr. Soklofske is a southern representative with the Health Sciences Association of Alberta and, according to his online biography, chairs that union's political action committee.
Sherwood Park-Strathcona
Businessman Brian Tiessen defeated Strathcona County Councillor Vic Bidzinski to become the Wildrose Party candidate in this constituency east of Edmonton. Mr. Bidzinski's political past, as a Liberal candidate in the 1997 federal election, drew confused reactions from some local Wildrose supporters.
West Yellowhead
Stuart Taylor was acclaimed as the Wildrose Party candidate in West Yellowhead. As the party's candidate in the 2012 election, Mr. Taylor placed second with 26.91%. The constituency is currently represented by Finance Minister Robin Campbell, who was first elected in 2008.