Progressive Conservative MLAs have voted to extend an invitation to Fort McMurray-Wood Buffalo MLA Mike Allen to rejoin their caucus. A relatively popular first-term politician in his constituency who many watchers believe will still do well in the next election (as an PC or an Independent), Mr. Allen left the PC caucus after he was arrested while trying to hire two prostitutes in St. Paul, Minnesota. Unfortunately for the Mr. Allen, the prostitutes happened to be police officers.
Police said he answered an online ad placed by undercover police, agreeing to pay two women $200 for sex. He was arrested and charged with a gross misdemeanour but pleaded guilty in December to a lesser misdemeanour of trying to hire prostitutes. He was fined $500, ordered to pay another $500 in court fees and sentenced to one-year of probation. His probation expires Dec. 18. (Edmonton Journal)
From a jail cell in Minnesota in July 2013 Mr. Allen did not deny the allegations, he admitted to his mistakes and voluntarily resigned from the PC caucus. As for his readmission into government, perhaps the MLAs in the PC caucus believe that one-year banishment into the opposition benches was punishment enough for Mr. Allen's indiscretions.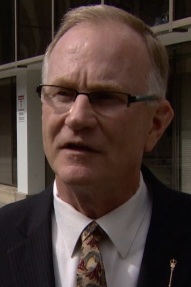 Joe Anglin Out
What is Joe Anglin to do? After losing the Wildrose Party nomination in Rimbey-Rocky Mountain House-Sundre last weekend, some political watchers have speculated that he might join the Alberta Party, others believe he could run as an Independent candidate in the next election. He has yet to let his intentions known.
Wildrose leader Danielle Smith cheekily suggested he should run in Edmonton, which would be akin to Stephen Harper saying Rob Anders should run for re-election in Toronto. A one man wolf pack, Mr. Anglin is a liability for any party in the rigid system of party discipline that exists in our political system. And the closer a party gets to power, like the Wildrose is, the more rigid they become with their MLAs and candidates.
Is it uncommon for incumbent politicians to lose party nomination races? In Alberta, yes. In fact, there are only a handful of examples I can remember from recent history in Alberta politics:
– First-term MLA Carl Benito was defeated by Sohail Quadri in the Progressive Conservative nomination in Edmonton-Mill Woods in 2012, Mr. Benito ran as an Independent in that year's election. He placed fifth of six candidates with 480 votes (3.9%).
– PC MLA Art Johnston lost two nominations in advance of the 2012 election – to Rick Fraser in Calgary-South East and Ric McIver in Calgary-Hays. Mr. Johnston retired from politics after the election was held.
– Then-Leduc mayor George Rogers upset two-term MLA Albert Klapstein in the PC nomination in Leduc before the 2004 election. Mr. Klapstein retired from politics after the election was held.
– Two-term MLA Tony Abbott was defeated for the PC nomination in Drayton Valley-Calmar by then-Drayton Valley mayor Diana McQueen before the 2008 election. Mr. Abbott retired rather than run for another party or as an Independent.
New Licence Plates
Albertans are living with flooding hospitals, overcrowded schools and a cash-strapped legal aid system, but a new licence plate design is a government priority? Premier Dave Hancock announced changes to Alberta's licence plates at a press conference today, including the removal of the long-time slogan 'Wild Rose Country' from the plates. Recent polls suggest that the current slogan is accurate.