The calm before the storm. The deep breath before the plunge.
Tomorrow is the day.
Tomorrow is by-election day in Fort McMurray-Lac La Biche.
They've been overshadowed by Jason Kenney's leadership review, the occupation of Ottawa, a blockade at Coutts, and the Russian invasion of Ukraine, but tomorrow the people of northern Alberta's famed boom town get their say.
They get to choose an MLA.
Brian Jean is the favourite to win.
He's the former MLA, former MP, and former leader of the Wildrose Party.
He's Fort Mac's golden boy.
Now he's the United Conservative Party candidate.
He's also Jason Kenney's worst enemy and if he wins he'll become an even bigger thorn in the Premier's side ahead of the April 9 leadership review.
Kenney beat Jean in the 2017 UCP leadership race and is now openly campaigning against him in the leadership review.
Jean isn't the only anti-Kenney candidate in the race.
NDP candidate Ariana Mancini is campaigning hard.
The NDP are cautiously optimistic about their chances but it's a real long shot and know they are the underdog.
Even with the NDP leading the UCP by 15 points in province-wide polls and Kenney's approval ratings in free fall, there is still a big gap to close in Fort McMurray-Lac La Biche.
The UCP won the riding with 66 per cent of the vote in 2019.
Competing with Jean for disaffected conservative voters is another former Wildrose Party leader, Paul Hinman.
Hinman now leads the separatist Wildrose Independence Party.
He's another long-shot candidate.
He's also living proof that by-elections can produce weird and unpredictable results.
What do I mean?
Hop in and join me in the Alberta Politics Time Machine™.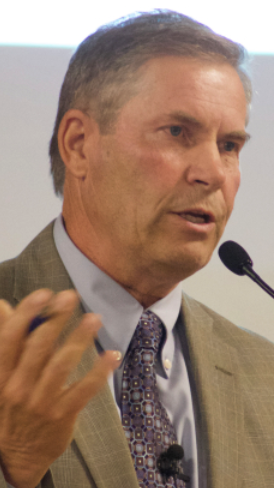 One year after Hinman was lost his Cardston-Taber-Warner seat in the 2008 general election he shocked political watchers by winning a by-election in posh Calgary-Glenmore in the city's southwest.
It was a real country-mouse-becomes-city-mouse situation.
But Hinman isn't the only example of how by-elections can be sometimes have shocking results.
The Liberals stunned political watchers when Craig Cheffins won in the Calgary-Elbow by-election to replace retired Premier Ralph Klein in 2007.
Alberta Party leader Greg Clark very nearly repeated history in 2014 when he placed a painfully close second to PC cabinet minister Gord Dirks in another Calgary-Elbow by-election.
"But Dave," you say, "aren't those just fancy urban Calgary ridings?"
Hold on.
There's more.
The Liberals won the 1992 by-election in Three Hills.
Yes. That's right. Three. Hills.
Deficit hawk Liberal leader Laurence Decore recruited farm realtor Don MacDonald in that by-election.
It was a sign of how well the Liberals were doing as much as how poorly the old Progressive Conservatives had tumbled under Don Getty's beleaguered premiership.
"This is the heartland of Conservative Alberta," Decore told a boisterous crowd of supporters in Three Hills on the night of MacDonald's win.
He won with a stunning 2,476 lead over the second place Social Credit candidate.
The PC placed third.
"This is rural Alberta. This is where it's not supposed to happen. This is where Liberals are supposed to be the anathema of everything that this area stands for," Decore said. "Not only are we winning but we're winning handsomely."
The Liberals even came within a hair of winning a by-election in Little Bow a few months earlier.
Yes. Little. Bow.
That's the deep south and it's where conservatives usually win big.
The Reform Party of Canada was on the rise and, just like Three Hills a few months later, Reformers were split between the provincial Liberals and Tories in that by-election.
Reformer-turned-Liberal Donna Graham finished 262 votes behind Reformer-turned-Tory winner Barry MacFarland.
It was a close race.
And then there's the big by-election win that people always talk about when Alberta separatism periodically peaks in the polls: Western Canada Concept's Gordon Kesler winning the 1982 Olds-Didsbury by-election.
It was the only time a separatist party candidate has been elected to the Alberta Legislature.
People were mad.
Mad at Pierre Trudeau.
Mad at Peter Lougheed.
And boy did they show it.
But Kesler only had a few months as an MLA before Lougheed shifted gears and steamrolled the WCC into electoral oblivion in the November 1982 general election.
Ok. Buckle up.
Let's take the time machine back even further.
Young PC candidate Bill Yurko stole the Strathcona East seat vacated by retired Premier Ernest Manning in 1969, foreshadowing the demise of Social Credit only a few years later.
Even the New Democrats have squeaked in a surprise by-election win, though you'll have to go way back to find it.
Pincher Creek-Crowsnest. 1966.
Garth Turcott becomes the first Alberta NDP MLA in the province's history.
It was a seat with a proud history of radical coal miner unionism, socialism and communism but like most of Alberta it had been held in the tight grip of the Socreds for over three decades.
Turcott's team brought in a professional organizer and used new campaigning techniques like "doorknocking."
Federal NDP leader Tommy Douglas even lent Turcott's campaign a hand and drew hundreds of people to a by-election rally in the riding.
Douglas roasted Premier Ernest Manning for standing in the way of public health care.
"He has been the spearpoint of the attack on medicare," Douglas said of the Alberta Premier.
It's probably how Rachel Notley would describe Jason Kenney today. She'd be right.
But that's for another column.
Slide back to the present. March 14, 2022.
What a wild ride.
I'd love to take the time machine to tomorrow night to see how the Fort McMurray-Lac La Biche by-election turns out but our tank is almost empty (and radioactive plutonium almost costs as much as a tank of gas these days!).
So we'll have to take a big deep breath and wait to see if Brian Jean reclaims his old seat tomorrow night.
It might be a Jean slam dunk, but as we just saw on our little journey through Alberta history – sometimes by-elections can have unexpected results.
Voting stations are open from 9:00 am to 8:00 pm.