Sharif Haji defeated MLA Chris Nielsen to win the Alberta NDP nomination in Edmonton-Decore.
"As a immigrant, as a black person, as a Muslim person, and as someone who has spent years working in community building, I hope to empower voices that have not always been heard in the halls of power," said Haji. "I believe that we can all be uplifted through our collective efforts and that government has a responsibility to address the needs of all Albertans."
Haji is the executive director of the Africa Centre and previously worked as for the provincial government's departments of Health and Seniors and Housing. He has a master's degree in public health from the University of Alberta.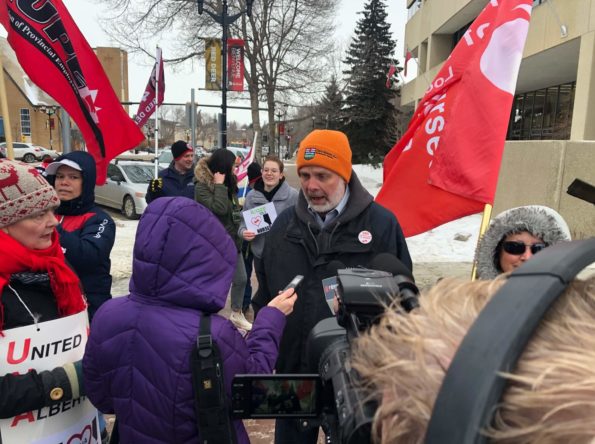 Nielsen has represented the north Edmonton riding since 2015 and is the first incumbent MLA to lost their party's nomination during this election cycle.
And also in Edmonton-Decore, Sayid Ahmed has been acclaimed as the United Conservative Party candidate. Ahmed is a manager in the provincial Department of Health and Vice President of Policy for the Alberta Advisory Board of the Conservative Black Congress of Canada.
The Edmonton-Decore riding is named after former Edmonton mayor and Liberal MLA Laurence Decore, who represented the north end riding of Edmonton-Glengarry from 1989 to 1997. The riding was renamed in his honour ahead of the 2004 election.
MLA Decore's successors included Liberal MLAs Bill Bonner (1997-2004) and Bill Bonko (2004-2008), Progressive Conservative MLA Janice Sarich (2008-2015), and Nielsen (2015-present). 
NDP nominate retired teacher in Brooks-Medicine Hat
Gwendoline Dirk was nominated as the NDP candidate in Brooks-Medicine Hat. The retired school teacher currently serves on the Medicine Hat Police Commission.
"All of the communities in this area face unique challenges, and that can change from town to town and even from farm to farm," Dirk said. "We need folks in the legislature that are listening and collaborating with these communities to address the challenges they face, and I am confident I can be that voice on Rachel Notley's team."
Camrose UCP open nominations
The UCP have opened nominations in Camrose, where first term MLA Jackie Lovely is facing a challenge from Beaver County Reeve Kevin Smook. Lovely was elected in Camrose in 2019 after running as the Wildrose Party candidate in Edmonton-Ellerslie in 2012 and 2015. Smook ran as the Alberta Party candidate in Camrose in 2019.
The UCP have also set June 29 as the date of the nomination meeting in Edmonton-South West. Labour Minister Kaycee Madu is being challenged by window and door restoration company owner and former champion Moldovan table tennis Slava Cravcenco.
And in the neighbouring riding to the north, Edmonton-West Henday, the NDP are expected to acclaim lawyer Brooks Arcand-Paul as their candidate at a June 29 nomination meeting.
On the doors
NDP leader Rachel Notley and Edmonton-North West MLA David Eggen were spotted doorknocking with candidate Diana Batten in Calgary-Acadia.
Edmonton-Highlands-Norwood MLA Janis Irwin and St. Albert MLA Marie Renaud joined Lethbridge-West Shannon Phillips at Lethbridge pride celebrations this weekend.
UCP leadership candidate Travis Toews was doorknocking with MLA Josephine Pon in Calgary-Beddington.
Toews campaign did not respond to questions from the media about his stance on womens' access to abortion services following the repeal of Roe v. Wade in the United States.
Anti-abortion activist MP Arnold Viersen, celebrated the decision by the US Supreme Court last week. Viersen has reportedly endorsed Toews in the UCP leadership race.
---
I am tracking candidates and building a list of people running for nominations to run in Alberta's next provincial election. If you know of someone running, please post a comment below or email me at david.cournoyer@gmail.com. Thank you!
(And, I know I've said this before but feel free to sign up for the Daveberta Substack.)