Alberta's oldest newly rebranded separatist party has a new interim leader, maybe.
A now deleted tweet from the newly renamed Wildrose Independence Party announced that former Wildrose Alliance leader Paul Hinman is the new interim leader of the party. Unless the party's account was hacked, it would appear that Hinman is launching another attempt at a political comeback.
The press release included with the now deleted tweet said that Hinman would speak to his new role at this week's Freedom Talk "Firewall Plus" conference, a pro-separatist event organized by former Wildrose candidate and right-wing online radio show host Danny Hozak that features speakers including former arch-Conservative MP Rob Anders, conservative lawyer John Carpay, Postmedia columnist John Robson, and federal Conservative leadership candidate Derek Sloan.
The newly renamed party is a merger of the separatist Wexit group and the Freedom Conservative Party, which since 1999 has been known at various times as the Alberta First Party, the Separation Party, and the Western Freedom Party. The party's most recent name was adopted when banished United Conservative Party MLA Derek Fildebrandt became leader shortly before the 2019 election.
The name change does not appear to have been approved by Elections Alberta, which still lists the party under its most recent previous name on its official website. But it was reported last week that former Wildrose activist and FCP candidate Rick Northey was the party's new president. Former Social Credit leader James Albers is also on the party's executive.
The oldest newest separatist party on Alberta's right-wing fringe should not be confused with the also recently renamed Independence Party of Alberta (formerly known as the Alberta Independence Party and now led by past UCP nomination candidate Dave Campbell), the Alberta Advantage Party (led by former Alberta Alliance Party president Marilyn Burns), and the unregistered Alberta Freedom Alliance (led by former Wildrose Party candidate Sharon Maclise).
The United Independence Party name was also recently reserved with Elections Alberta, presumably by another former Wildrose candidate trying to start another new separatist party.
But back to the new interim leader of the new separatist Wildrose party…
The grandson of former Social Credit MLA and cabinet minister Edgar Hinman, Paul Hinman's first foray into provincial electoral politics saw him elected in Cardston-Taber-Warner as the lone Alberta Alliance MLA in the 2004 election. Hinman inherited the leadership of the tiny right-wing party when Randy Thorsteinson (who had previously helped found the Alberta First Party) failed to win his election in Innisfail-Sylvan Lake. He endorsed Progressive Conservative leadership candidate Ted Morton in 2006 and led the party through an eventual split and re-merger with a faction branding itself as the Wildrose Party – and thus the Wildrose Alliance was formed. 
Hinman lost his seat in the 2008 election in a rematch with former PC MLA Broyce Jacobs. He announced plans to step down as leader shortly afterward and then surprised political watchers when he won a 2009 by-election in posh Calgary-Glenmore, pumping some momentum behind Danielle Smith when she won the party's leadership race a few months later.
In 2010, Hinman was joined by floor crossing PC MLAs Heather Forsyth, Guy Boutilier, and Rob Anderson (who four years later crossed the floor back to the PC Party and now hosts a Facebook video show where he promotes Alberta separatism), but, despite the party's electoral breakthrough in 2012, Hinman was again unable to get re-elected.
He endorsed Brian Jean for the Wildrose Party leadership in 2015 and announced his candidacy to seek the Wildrose nomination back in his old Cardston-Taber-Warner district in that year's election but withdrew from the race a month later. Standing by Hinman's side at this nomination launch was Cypress-Medicine Hat MLA Drew Barnes, now de facto leader of the UCP separatist caucus.
A year later he mounted an unsuccessful bid for the Conservative Party nomination in Medicine Hat-Cardston-Warner in 2016 but was defeated by now Member of Parliament Glen Motz.
More recently, Hinman launched a brief bid for the UCP leadership in 2017, announcing a campaign focused on parental rights and conscience rights, but when the Sept 2017 deadline to deposit the $57,500 candidate fee passed, he did not make the cut. Hinman later endorsed Jason Kenney's candidacy.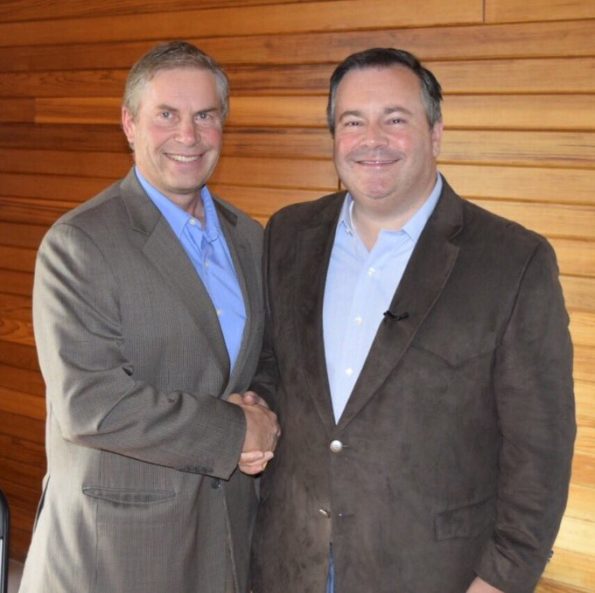 Now he might be taking over the interim leadership of the fledgeling fringe separatist party at a time when public opinion polls show that Albertans' appetite for leaving Canada is cooling as memory of the 2019 federal election fades. If historic trends hold, then the desire for separatism will drop if it looks like the next federal Conservative Party leader can form a government in Ottawa.
Separatism is ever-present on the fringes of Alberta politics and is more of a situational tendency than a real political movement with legs but a half-organized separatist party could syphon votes away from the UCP in the next provincial election.
And with next October's Senate nominee election likely to be a showdown between candidates aligned with the federal Conservative Party led by whoever wins this summer's leadership race and the federal Wexit Party led by former Conservative MP Jay Hill, expect the UCP to be paying a lot of attention to these fringe separatist groups sniping at its right-flank.
If he actually does become the leader of the oldest newest separatist party, Hinman will provide some profile and credibility in political circles where conservatives are perpetually disgruntled with New Democratic Party leader Rachel Notley and Prime Minister Justin Trudeau, and newly disgruntled with Premier Kenney, presumably for not pushing hard enough for Alberta's separation from Canada.