Laila Goodridge has been chosen as the United Conservative Party candidate in the upcoming Fort McMurray-Conklin by-election. The yet to be called by-election is required following the resignation of UCP MLA and former Wildrose Party leader Brian Jean in March 2018.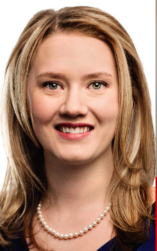 According to Fort McMurray Today reporter Vincent McDermott, Goodridge won the nomination with 52 percent of the vote on the second ballot. She defeated longtime conservative party campaign manager Willie Hoflin, social worker Elizabeth Keating, and eight-term Wood Buffalo municipal councillor Phil Meagher in the nomination contest.
Her nomination candidacy had been endorsed by UCP MLAs Leela Aheer, David Hanson, Jason Nixon, Todd Loewen and Conservative MPs Matt Jeneroux and Dane Lloyd.
Goodridge worked as a political staffer in Calgary, Edmonton and Ottawa, including as a constituency assistant for former Calgary-Centre MP Joan Crockatt. She was director of field operations for Jean's UCP leadership campaign in 2017. She was also the Wildrose candidate in Grande Prairie-Wapiti in the 2015 election where she placed third behind PC incumbent Wayne Drysdale and New Democrat Mary Dahl.
Goodridge was considered a potential candidate for the Conservative nomination in the 2014 by-election in Fort McMurray-Athabasca that was held to replace Jean when he resigned from federal politics in 2015.
Wood Buffalo municipal councillor Jane Stroud is seeking the New Democratic Party nomination, which is scheduled to take place on May 10, 2018.
Here is a look at the vote share by party in Fort McMurray-Conklin in general elections in 2012 and 2015: