While I am in the mood to dispense political advice, my next tip goes out to Wildrose leader Brian Jean, who was a featured speaker at Ezra Levant's totally weird anti-carbon tax rally.
Mr. Jean and Innisfail-Sylvan Lake MLA Don MacIntyre shared the podium at the event organized to protest Alberta's carbon tax (yes, the carbon tax that led to the approval of the Kinder Morgan Trans Mountain Pipeline).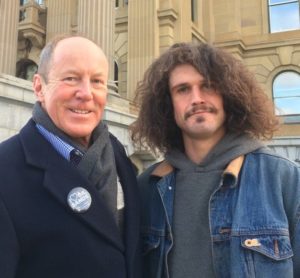 The rally featured Neal Bernard "The Roughneck" Hancock removing his shoes and throwing them at the doors of the Legislature, former federal cabinet minister Chris Alexander appearing to nod as protesters chanted "lock her up" in reference to Premier Rachel Notley, and climate change denying, anti-gay and anti-immigration messages on signs and pamphlets.
Also present was Edmonton-Griesbach Conservative MP Kerry Diotte, who later posted a message on Facebook attacking the media for alleged biased coverage of the rally.
While the crowd certainly included Albertans who are frustrated and angry at the economy and the government, the bizarre program and assortment of weird fringe groups distracted from any anti-carbon tax message they hoped to send.
Mr. Jean denounced the "lock her up" chanters at the rally two days later after calls by NDP House Leader Brian Mason for the Wildrose leader to reject "Trump-style hate politics." The chant was also denounced by Conservative Party interim leader Rona Ambrose.
"We don't lock people up in Canada for bad policy, we vote them out," Ms. Ambrose said. "I don't know what to say — it's people acting like idiots."
Unless the Wildrose Party's election strategy is to remind Albertans about the Lake of Fire, Mr. Jean and his Wildrose MLAs should probably avoid any public association with this crowd in the future.