New Democratic Party MLA Eric Rosendahl announced this week that he will not be running for re-election when the provincial election is called later this spring. Rosendahl was first elected as the MLA for West Yellowhead in 2015 and had previously announced that he would seek his party's nomination for re-election in 2019.
Rosendahl is the former president of the Hinton Fish & Game Association, Hinton Search and Rescue, and the Yellowhead District Labour Council. He surprised many political watchers when he unseated Progressive Conservative Finance Minister Robin Campbell in the last election. Rosendahl's campaign spent $748, compared to $25,208 spent by Campbell's campaign.
While Rosendahl was not initially expected to win in 2015, the NDP does have a traditional voting base in the district, with a significant population of unionized workers employed by the provincial and federal governments, and by private employers at the numerous mills and mines in the region (Campbell had been president of United Mine Workers of America Local 1656 before he was elected in 2008 and is currently President of the Coal Association of Canada). Former Edson mayor Jerry Doyle represented West Yellowhead for the NDP from 1989 to 1993.
Rosendahl gained some negative media attention earlier this year when a former member of his constituency office staff alleged he pressured her to do political work on government time.
West Yellowhead will undergo significant changes when the 2019 is called and its boundaries will expand to include the town of Whitecourt.
The NDP have scheduled a nomination meeting for March 9, 2019. Already nominated in this district are United Conservative Party candidate Martin Long, Alberta Party candidate Kirstie Gomuwka, and Liberal Party candidate Zack Seizmagraff.
Here are some of the latest NDP candidate nomination updates:
– Kate Andrews is the NDP candidate in Calgary-Acadia. Andrews is a lawyer with the Kahane Law Office and has experience in civil and commercial litigation. She is the chair of the Board of Directors for Closer to Home Community Services.
– Lynn MacWilliam is the NDP candidate in the southern Alberta district of Brooks-Medicine Hat. MacWilliam serves on Bassano Town Council and ran for the provincial NDP in Strathmore-Brooks in 2015, earning 15 per cent of the vote, and for the federal NDP in Bow River in 2015, earned 5 per cent of the vote. She previously worked in Ottawa for former Burnaby-Douglas MP Bill Siksay. 
– Hafeez Chishti has been nominated as the NDP candidate in Calgary-North West. Dr. Chishti is a Professional Geologist/Geoscientist and is a member of the Board of Governors of the University of Calgary.
The NDP have also nominated Julia Bietz in Calgary-Lougheed and Rebecca Bounsall in Calgary-Fish Creek. Rosa Evelia Baez Zamora will seek the NDP nomination in Airdrie-East on March 13, 2019, and the NDP will hold nomination meetings in Olds-Didsbury-Three Hills on March 11, 2019, and in Athabasca-Barrhead-Westlock and Grande Prairie-Wapiti on March 17, 2019.
Alberta Party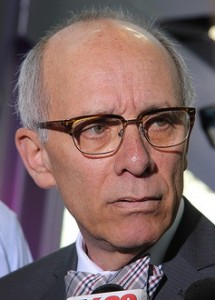 After being banned from running as a candidate in the next election because his campaign missed a deadline to file financial disclosure papers with Elections Alberta, Alberta Party leader Stephen Mandel's lawyers convinced a judge to overturn the ban and allow him to run in Edmonton-McClung when the next election is called.
Mandel became leader of the party in 2018 and served as the PC MLA for Edmonton-Whitemud and Health Minister from 2014 to 2015 and mayor of Edmonton from 2004 to 2013.
He was one of 7 Alberta Party candidates hit with this penalty. Six of the candidates, including Mandel, have now had their bans lifted. Edmonton-Meadows candidate Amrit Matharu remains on the banned list.
Jasbir Dhari has been nominated as the Alberta Party candidate in Calgary-Falconridge.
Liberal Party
Michelle Robinson has been nominated as the Liberal Party candidate in Calgary-East. Robinson ran for Calgary City Council in 2017, placing fourth with 6.1 per cent of the vote . She was the first First Nations woman to run for city council in Calgary.
The Liberals have nominated Dan Ejumabone in Calgary-West and Amy Yates in Taber-Warner. Clarie Wilde is seeking the Liberal Party nomination in Edmonton-Rutherford.

Rio Aiello is the nominated Freedom Conservative Party candidate in Calgary-West.
If you know any candidates who have announced their intentions to stand for party nominations, please send me an email at david.cournoyer@gmail.com. I will add them to the list. Thank you!