Recent polls show a three-way split in support between the Progressive Conservatives, New Democratic and Wildrose Parties have generated some interest in Alberta's provincial election campaign but with 24 days left until voting day we can expect a lot to change. Here is a quick review of what the politicians were saying and political parties were spinning in the first week of this election campaign.
Progressive Conservatives
Campaigning on issues related to the March 2015 provincial budget, Progressive Conservative leader Jim Prentice spent most of his week travelling around rural Alberta in his party's campaign bus.
Mr. Prentice targeted his opponents as extremists while moderating his own tone around Alberta's economy. Before the election was called, Mr. Prentice's repeated doom-and-gloom messages led opposition critics to name him "Grim Jim." The PCs are attempting to present Mr. Prentice as the balanced (a.k.a. safe) candidate, as opposed to the extremist (a.k.a. dangerous) leaders of the opposition.
The PCs promised to double the $17.4 billion Heritage Fund as part of a 'ten year plan' and Mr. Prentice repeated his pre-election statement that he would remove the provincial government's dependence on natural resources revenues.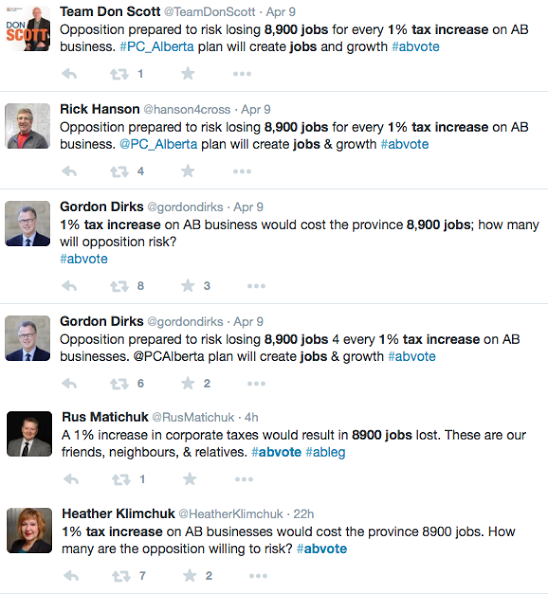 The recent provincial budget included almost sixty tax and fee increases, including increases to personal taxes but no increases to corporate taxes, which appears to have been a political miscalculation on the part of the PCs. The government's own budget survey results showed 69% of Albertans support a corporate tax increase, a point the NDP has stressed.
PC MLAs and candidates took to social media to post different variations of a message that 8,900 jobs would be lost if corporate taxes were increased by 1%. It is unclear what study the 8,900 jobs number originates from.
Creating more confusion around corporate tax increases, a PC press release from April 9 stated 'Prentice pointed out that more than 95% in Alberta are small businesses, employing fewer than 50 people, and questioned those who would put those jobs at risk with a corporate tax increase." This is a good talking point, if not for the issue that small businesses do not pay corporate tax rates.
According to the Department of Finance website, small businesses earning $500,000 of less profit each year pay a separate 3% small business tax, not the 10% corporate tax applied to companies earning more than $500,000 in profit annually. The PCs dropped the corporate tax rate in Alberta from 15% in 2001 to the current 10% in 2006.
Edmonton Police are investigating bribery allegations made during the Edmonton-Ellerslie PC nomination contest and disqualified Edmonton-Decore PC nomination candidate Don Martin is suing the PC Party for $124,000 over bribery allegations. Dismissed nomination candidate Jamie Lall declared that he is running as an Independent candidate against PC MLA Bruce McAllister in Chestermere-Rockyview.
New Democratic Party
NDP leader Rachel Notley launched her party's election campaign in Edmonton and travelled to Calgary and Lethbridge to campaign with candidates in those cities. It is notable that the NDP are focusing resources on candidates outside of Edmonton, where the party has traditionally been weak. Calgary-Fort candidate Joe Ceci, Calgary-Varsity candidate Stephanie McLean and Lethbridge-West candidate Shannon Phillips were prominently placed at Ms. Notley's side during photo-ops at these stops
NDP messaging in the first week of the campaign focused on the economy. Ms. Notley announced the creation of a Job Creation Tax Credit for businesses as the first NDP election promise, providing balance from their calls for corporate tax increases. The credit sounds reasonable, but much like the PC Party's 8,900 job loss argument, I am skeptical about this credit creating 27,000 new jobs. The NDP also announced that in-province refining and upgrading is also a top priority. Before the election was called, Ms. Notley's unveiled her party's plans to create a Resource Owners' Rights Commission.
The NDP responded to Mr. Prentice's "extremist" claims with an "extremist of the week" press release quoting former Premier Peter Lougheed's support of increased corporate taxes and former Deputy Premier (and current PC candidate) Thomas Lukaszuk support for in-province refining and upgrading.
Ms. Notley was also a guest on this week's #abvote Google Hangout.
Wildrose Party
Focusing on rural Alberta, Wildrose leader Brian Jean campaigned in southern Alberta and his Fort McMurray constituency this week. While the campaign trail in Strathmore-Brooks, Mr. Jean and candidate Derek Fildebrandt cleverly walked around town with a giant arrow in hand pointing out services and commodities, like alcohol and gas, which became more expensive due to tax increases in the recent provincial budget.
Mr. Jean released his party's "Five Priorities" that include positions on taxes, health care, education, democracy and rural Alberta. Part of the Wildrose plan to balance the budget by 2017 without raising taxes includes cutting 3,200 management jobs, including 1,600 in Alberta Health Services and 1,600 in the Government public service.
The Wildrose announced they would sell the Kananaskis Golf Course, a publicly owned and privately-operated golf course that the provincial government had paid millions of dollars to repair after it was damaged by floods in 2013.
Mr. Jean backtracked on comments made about Mr. Prentice undermining Prime Minister Stephen Harper.
The Wildrose Party also nominated new candidates this week including City Councillor Buck Buchanan in Red Deer-North, past mayoral candidate Shelley Biermanski in St. Albert, Don Koziak in Edmonton-Glenora and Ian Crawford in Edmonton-Riverview.
Liberals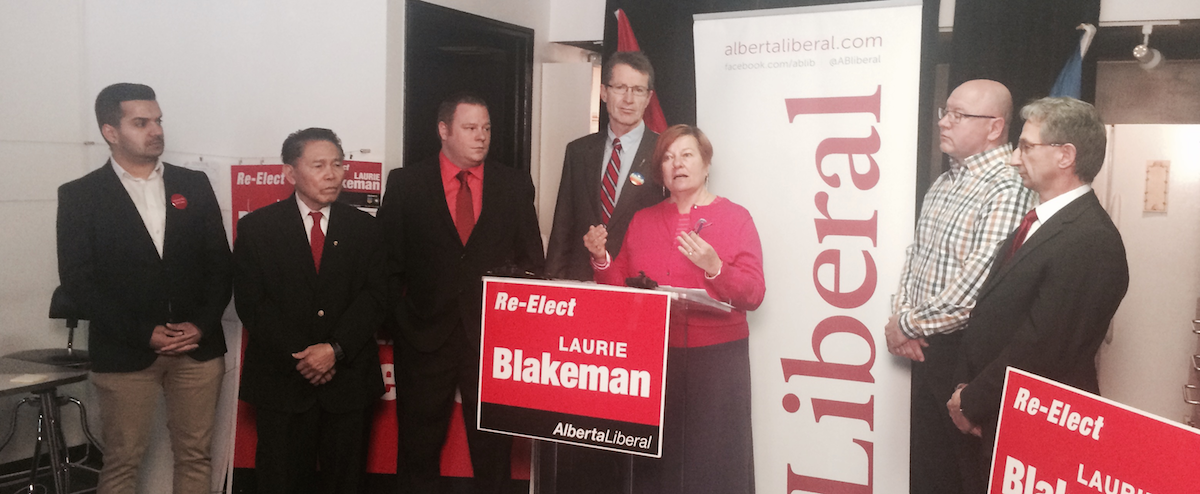 The Liberal Party announced they would introduce pay equity legislation, increase funding to Family and Community Support Services and reinstate the Charitable Donation Tax Credit, which was decreased in the recent budget. Interim leader David Swann , who is running for re-election in Calgary-Mountain View, received an endorsement from Senator and retired Lieuteant General Romeo Dallaire. Receiving the 2015 Calgary Peace Prize this week, Mr. Dallaire called Mr. Swann a "true humanitarian."
Edmonton Journal columnist Graham Thomson wrote that the Liberal Party might need "a ballot box miracle" in order to save themselves from political oblivion.
Alberta Party

 
Alberta Party Leader Greg Clark released his party's policy platform and Economic Recovery Plan. Most of the party's focus is on electing Mr. Clark in Calgary-Elbow, where he placed a strong second to PC MLA Gordon Dirks in a 2014 by-election. Mr. Clark's campaign is using DirksRecord.ca to target Mr. Dirks' record.
The party also grabbed media attention for scooping up the domain names choosealbertasfuture.ca and .com after the PC campaign slogan was unveiled earlier this week.
Green Party 
The Green Party published a media release criticizing the PC Government's record on environmental regulation, describing it as a "fake, not authentic, regulation and thus an insult to the intelligence, dignity and trusting nature of Albertans."  The release takes issue with the South Saskatchewan Regional Plan and calls on the government to create a regulator that understands the impact of proposed activity and puts rules in place to prevent any unacceptable impacts.
Other Groups
The Council of Alberta University Students (CAUS) launched a campaign to increase voter turnout among university students in this election. "We are going to sign up thousands of students and make sure they turn out on Election Day," CAUS chairperson Navneet Khinda said in a press release.
The Parkland Institute released a new report looking at political values of Albertans. Public Interest Alberta released its "Priorities for Change" report as a resource for political candidates in this election And Change Alberta has returned to rank the progressive candidates most likely to win in constituencies across Alberta.