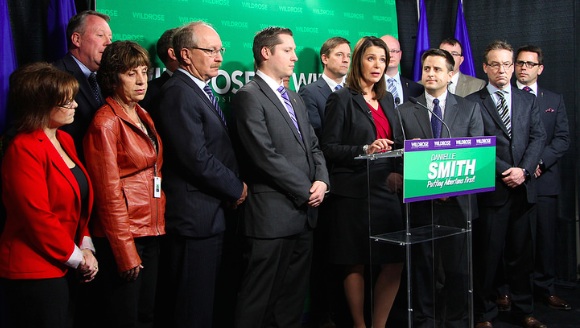 In a move designed to quash any further internal party dissent, Wildrose MLAs rallied around their leader yesterday by unanimously requesting their party's executive committee cancel a leadership review that Danielle Smith requested last week.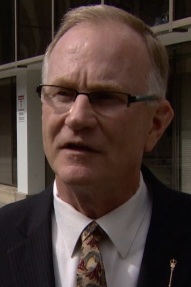 The sign of caucus unity came shortly after Sundre-Rocky Mountain House-Rimbey MLA Joe Anglin announced he was leaving the Official Opposition Caucus to sit as an Independent MLA.
Ms. Smith requested the review in response to the Wildrose Party's poor showing in four by-elections held on October 27. Although the by-elections were held in traditionally safe Progressive Conservative voting constituencies, they were seen by many political watchers as a mid-term review for the 43-year governing PC Party, now led by Jim Prentice.
Will the sign of caucus support for Ms. Smith's leadership put an end to the Wildrose "civil war" between pragmatic and ideological conservatives that Mr. Anglin referred to in a Facebook post yesterday?
From the outside, it is difficult to tell whether an actual "civil war" is being waged. Mr. Anglin has always been more comfortable as a political lone-wolf and his departure was not unexpected. And despite the party's sometimes uneasy coalition of libertarian and social conservatives, it is reasonable to believe Ms. Smith would still receive a strong endorsement from party members in a leadership review (she received 90% approval in a 2013 review).
But the entrance of Mr. Prentice onto the political stage may have slightly shifted the ground in Alberta's conservative movement. As the by-election results suggest, there are many conservative voters comfortable with a PC Party led by Mr. Prentice and, at the very least, they willing to give him a chance.
Mr. Prentice does pose a serious challenge for the Wildrose Party, which made former Premier Alison Redford into political lightening rod. And while the sting of Ms. Redford's legacy did not resonate in the by-elections, the recent announcement of an R.C.M.P investigation into her alleged misdeeds may reignite Albertans anger.
It is difficult to imagine who would replace the Wildrose Party's high-profile leader. Although MLAs Kerry Towle, Bruce McAllister, Shayne Saskiw, Heather Forsyth and Rob Anderson have some provincial profile, none are as recognizable as their current leader. I would guess that most Albertans would struggle to name a Wildrose MLA other than Ms. Smith.
Whether a "civil war" is actually underway, it is clear that the Ms. Smith's Wildrose Party is facing an identity crisis in a post-Redford political environment.
———
Meanwhile, NDP leader Rachel Notley and Liberal leader Raj Sherman have ruled out any talk of a merger by Alberta's centre/centre-left political parties. Talk of a potential merger arose following significant vote-splitting in the Oct. 27 by-elections.