Reacting to her party's poor results in four provincial by-elections held this week, Wildrose leader Danielle Smith announced that she will face a leadership review at her party's annual convention on November 14 and 15, 2014 in Red Deer.
This is a smart move by the official opposition leader, as a solid approval rating could silence her detractors inside the party and mute Progressive Conservative activists who have been using social media to vocally call for her resignation after this week's by-election votes.
It is not hard to imagine Ms. Smith doing well in the review. She earned 90% support in a leadership review following the 2012 election.
Ms. Smith has also publicly recognized that her party's strategy of attack in the by-elections fell flat. And on a conference call with constituency presidents last night, Ms. Smith said she would not accept party strategist Vitor Marciano's resignation offer in wake of the by-election results. Mr. Marciano also serves as Ms. Smith's press secretary and is a former member of the Conservative Party of Canada National Council.
But the move to reaffirm her leadership in advance of the 2016 election also comes with risks if her opponents inside the party do decide to strike.
And as we know from recent PC Party leadership reviews, who is able to vote is highly controlled and the results have limited meaning. In 2009 and 2013, PC leaders Ed Stelmach and Alison Redford earned 77% approval from party loyalists. But within months of the both votes, the leaders were drummed out of office by caucus and party revolts (a real revolt in Ms. Redford's case and a threatened one in Mr. Stelmach's case).
Wildrose Party members would be foolish to remove Ms. Smith as their leader before the next election. She is smart, media savvy and has grown into her role as official opposition leader since taking over the party in 2009. Removing her as leader would be a death knell for the party.
Trouble in Rimbey-Rocky Mountain House-Sundre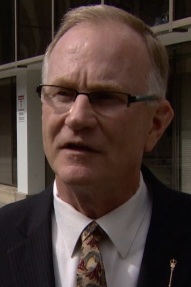 Aside from a leadership review, Ms. Smith may have to deal with growing unrest in one of her party's rural constituency associations. The Wildrose Party executive committee has appointed a special subcommittee to investigate an ongoing dispute within the party's Rimbey-Rocky Mountain House-Sundre constituency association.
The controversy centres around a heated vote for a  new board of directors at an October 15, 2014 annual general meeting. A new board of directors is believed to have been elected, but is disputed by the previous board of directors, who claim that the meeting had officially adjourned before the new board could be elected.
The President of the new board of directors is Edwin Erickson, a former leader of the Alberta Party and former deputy leader of the Alberta Greens during Mr. Anglin's time as that party's leader from 2008 to 2009.
These allegations have led the new board, which is operating as the official board, to retain the services of Toronto lawyer Donald Bur to represent them in any legal disputes.
According to the Rimbey Review, Wildrose MLA Joe Anglin did not attend the meeting and claims he heard a tape recording that proves the motion to adjourn was "soundly defeated."
Much of the tension appears to stem from a recent nomination contest that was wrought with controversy and accusations. During the July 2014 contest, Mr. Anglin, an outspoken property rights activist, publicly accused the Wildrose Party executive committee of failing to enforce the party's own nomination rules. When the votes were counted, Mr. Anglin was defeated by Jason Nixon.
Following Mr. Anglin's nomination loss, Ms. Smith suggested that he might consider running in an Edmonton constituency in the next election.