Photo: NDP MLA Brian Mason announces his retirement from Alberta politics on July 4, 2018. (photo credit: David Climenhaga)
After 30 years in elected office, Brian Mason will call it quits when the next provincial election is called. The New Democratic Party MLA for Edmonton-Highlands-Norwood announced at a press conference this morning that he will not seek re-election in 2019.
He started his political career as a student activist, including a term as Vice-President External of the University of Alberta Students' Union and as director of the Alberta Federation of Students. Mason jumped into municipal politics in 1983, running for city council as past of the left-leaning Edmonton Voters Association slate. His first run was unsuccessful but he ran again six years later.
Then employed by the City of Edmonton as a bus driver, Mason challenged a law prohibiting city employees from running for council and was elected to city council in 1989. He was re-elected in north east Edmonton in 1992, 1995, and 1998. He jumped into provincial politics in 2000, running in a by-election in Edmonton-Highlands to succeed former NDP leader Pam Barrett, who had represented the district from 1986 to 1993 and 1997 until her retirement from politics in 2000.
Mason cruised to victory in the by-election against former Leduc Liberal MLA Terry Kirkland and was re-elected by significant margins in the five elections since. He became leader of the Alberta NDP ahead of the 2004 election, succeeding Edmonton-Strathcona MLA Raj Pannu.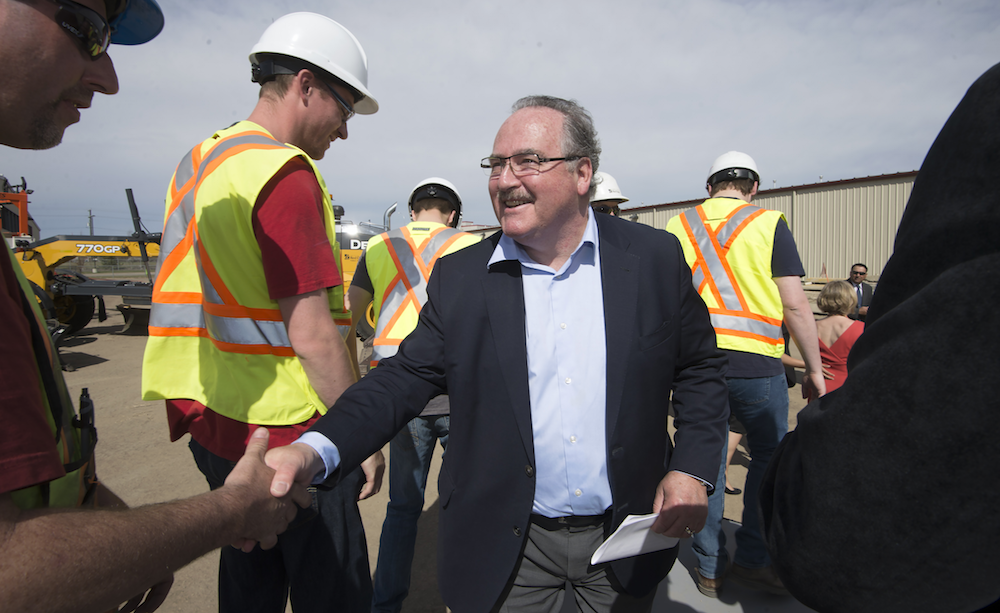 As leader of the sometimes 2 or 4 MLA caucus, Mason led a feisty opposition that frequently ran circles around the actual Official Opposition Liberals (to the frustration of Liberal Party staffers like me).
He stepped down as leader in 2014, perhaps sensing a change in the times. And the timing of the NDP leadership race that chose Rachel Notley was perfect. While no one could have predicted on that day that Notley would lead the NDP to form government in 2015, Mason handed over a party that was in much better shape than it was on the day he started the job in 2004.
He was re-elected in 2015 in Edmonton-Highlands-Norwood with the widest margin of his political career, earning a landslide 78 percent of the vote.
Despite rumours that Notley might pick him for Minister of Finance or back a bid for him to become Speaker of the Legislative Assembly, she appointed Mason as Minister of Transportation, Minister of Infrastructure and Government House Leader when the NDP were sworn-in to office in 2015.
The Dean of Alberta's Legislative Assembly, Mason will end his political career as the longest-serving current MLA in our province.
---
NDP nomination battle in Edmonton-Highlands-Norwood
With Mason stepping aside, we could now see a spirited nomination contest in Edmonton-Highlands-Norwood, a largely blue-collar district that is considered strong territory for the NDP.
Two names frequently mentioned as potential successors to Mason include 2015 federal NDP candidate Janis Irwin and former Public Interest Alberta executive director Bill Moore-Kilgannon.
(I live in Edmonton-Highlands-Norwood, so I have a particularly keen interest in this nomination contest).
---
A history of Edmonton-Highlands-Norwood
The Edmonton-Highlands-Norwood district was created in 2004 and included areas from the former Edmonton-Highlands and Edmonton-Norwood districts.
Edmonton-Highlands had been represented by the NDP from 1986 until 1993, when Liberal Alice Hanson was elected, and again by the NDP from 1997 until 2004.
Edmonton-Norwood was represented by NDP leader Ray Martin from 1982 until 1993, when he was unseated by Liberal Andrew Beniuk. Beniuk later crossed the floor to the Progressive Conservatives and was defeated in 1997 by Liberal Sue Olsen. Olsen did not seek re-election in 2001 and the seat was won by PC candidate Gary Masyk, who would later cross the floor to the Alberta Alliance. Masyk chose not to challenge Mason in the new district in 2004 and was defeated in his bid for re-election in the neighbouring Edmonton-Decore district.