It has been an incredible 15 days since Alberta's historic 2015 election. Here is a quick look back at what has happened in the past two weeks and what will happen in the months ahead.
May 5: Rachel Notley's New Democratic Party won Alberta's provincial election and formed a majority government with 53 MLAs. The Wildrose Party formed Official Opposition with 21 MLAs and the Progressive Conservative Party, which had formed government since 1971, was reduced to 10 MLAs. Alberta Party leader Greg Clark was elected in Calgary-Elbow and Liberal David Swann is re-elected in Calgary-Mountain View. One race, in Calgary-Glenmore, was tied. Premier Jim Prentice announced his resignation as PC Party leader and as MLA for Calgary-Foothills.
May 6: In her first press conference since the election, Premier-designate Notley reassures business and energy industry leaders of her intentions to work collaboratively with them as Premier of Alberta.
May 7: Ms. Notley meets with Lieutenant Governor Donald Ethell and asks for permission to form a government. The process of transitioning a new party into government in Alberta begins for the first time since 1971.
May 8: Mr. Clark announced he would submit a series of requests under Alberta's Freedom of Information and Protection of Privacy Act to ensure sensitive documents are not destroyed before the transition to a new government. Mr. Jean also calls on the outgoing government to stop all shredding of documents during the transition. The University of Alberta Board of Governors voted to keep Doug Goss as chairman in spite of his participation in a disasterous press conference in the last week of the election where he and three other CEOs urged Edmontonians to vote PC and described the NDP as amateurs.
May 9: The NDP Government caucus meets for the first time at Government House in Edmonton. "Albertans voted for change and they asked our team of new MLAs to do important work, the work of restoring honesty and integrity and trust to government," Ms. Notley told reporters at a morning press conference.
May 11: Wildrose leader Brian Jean announced six senior Official Opposition critic roles and caucus officers. Calgary-Hays MLA Ric McIver is appointed interim leader of the PC opposition caucus.
May 12: Ms. Notley met with outgoing Premier Prentice and asked that the outgoing Government of Alberta extend the school budget deadline to the end of June. She also announced she had hired Brian Topp as her Chief of Staff and Adrienne King as Deputy Chief of Staff. Richard Dicerni remains Deputy Minister for Executive Council.
May 13: The Information and Privacy Commissioner and the Public Interest Commissioner opened a joint investigation into the alleged improper destruction of records by the Ministry of Environment and Sustainable Resource Development. Ms. Notley ordered all government departments to halt document destruction.
May 14: At the PC Party Calgary leader's dinner, Mr. Prentice made his first public statement since the party's electoral defeat and his surprise resignation on election night.
May 15: A recount of a tied election in Calgary-Glenmore resulted in a 6-vote win for NDP candidate Anam Kazim over PC candidate Linda Johnson. Ms. Johnson has until May 25 to request a judicial recount. The PC Party laid off 11 of its staff and announces plans to close its offices in Calgary and Edmonton.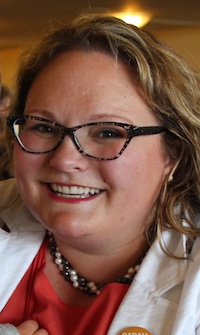 May 16: Speaking to a meeting of the Alberta Teachers' Association, Edmonton-Glenora NDP MLA-elect Sarah Hoffman reached out to educators by telling them that the new government will be a better partner.
May 20: Ms. Notley held a press conference where she announces the dates of the cabinet swearing-in ceremony, the size of the new cabinet and timelines for a new provincial budget. Prime Minister Stephen Harper announces that Calgary businessperson Lois Mitchell will replace Mr. Ethell as Lieutenant Governor of Alberta.
May 24: Ms. Notley and 11 NDP cabinet ministers will be sworn-in to office at 2:00 p.m. on the north steps of the Alberta Legislature Building.
May 27 and 28: The new NDP cabinet will hold its first meetings in Calgary.
May 30: The Alberta Liberal Party annual general meeting will be held at the Chateau Nova Hotel in Edmonton.
June 1: Candidates elected on May 5 will officially be sworn-in as MLAs.
June 11: MLAs will meet to elect a new Speaker of the Legislative Assembly. Current Speaker Gene Zwozdesky continues this role until a new Speaker is chosen.
June 15: A Speech from the Throne will be delivered. The NDP Government will ask the Legislature to approve an Interim Supply Bill to finance the operations of government until the fall.
July 15-17: Newfoundland and Labrador Premier Paul Davis will host Canada's Premiers and their delegations for the 2015 Council of the Federation. The meeting will take place in St. John's.
Fall 2015: A new provincial budget will be tabled in the Legislative Assembly.
October 19: The scheduled date of Canada's 42nd federal election.
November 5: The latest date according to the PC Party constitution at which a new leader must be selected.
November 13: The Wildrose Party will hold its annual general meeting at the Sheraton Cavalier Calgary Hotel in Calgary.
November 15: The six month deadline for a by-election to be held in Calgary-Foothills (assuming that Mr. Prentice's resignation as MLA was accepted when the official count was released on May 15, 2015).