Two-term Drumheller-Stettler MLA Rick Strankman has left the United Conservative Party and will sit as an Independent MLA if the Legislative Assembly returns before the next election.
In a statement released on January 15, 2019, Strankman lamented the state of hyper-partisanship in Alberta politics and claimed that the UCP was "not including the grassroots principles of strong conservative Albertan values."
Strankman was the first incumbent MLA to lose his party's nomination in this election cycle when he went down to defeat at the hands of Pollockville rancher and political family scion Nate Horner in an October 2018 nomination contest.
Despite endorsements from six of his caucus colleagues, Strankman was unable to fend off this nomination challenge. Horner defeated Strankman by a margin of 969 votes to 740.
Strankman was first elected in 2012 as a Wildrose Party candidate, defeating Progressive Conservative Minister of Tourism, Parks and Recreation Jack Hayden by 865 votes. He was re-elected in 2015 in a rematch with Hayden, that time widening his margin of victory to 2,182 votes.
Strankman was one of five Wildrose MLAs not to cross the floor to the PCs in 2014.
Following his nomination defeat in 2018, there was speculation that Strankman could have sought the nomination to run in Drumheller-Stettler as a candidate with Strathmore-Brooks MLA Derek Fildebrandt's right-wing Freedom Conservative Party. His decision to instead sit as an Independent MLA is not a great endorsement of Fildebrandt's new party, which has already attracted the attention of another former Wildrose MLA, Joe Anglin.
It is not clear whether Strankman plans to seek re-election as an Independent candidate in 2019.
In 2015, Strankman introduced the Election (Restrictions on Government Advertising) Amendment Act, into the Assembly. The private members' bill would have restricted the ability of government to make announcements and advertise during of election and by-election periods. The bill died on the order paper when it was referred to the Select Special Ethics and Accountability Committee.
In 2016, Strankman was twice forced to apologize after penning an article comparing Alberta's carbon tax to the Holodomor, the Ukrainian genocide of the 1930s which killed between 3.3 to 7.5 million people. He has also publicly questioned the science of climate change.
In July 2017, Strankman claimed the "electronic sphere" and a "hack job" were responsible for a tweet posted by his MLA twitter account accusing Prime Minister Justin Trudeau of being a "gutless puke."
He is perhaps most well-known for being jailed in 2002 after being charged under the Customs Act for taking 756 bushels of wheat across the American border in protest of the Canadian Wheat Board. He was later pardoned by Prime Minster Stephen Harper.
Strankman is the sixth MLA to leave the UCP since it was formed in the summer of 2017. He endorsed Jason Kenney in the 2017 UCP leadership contest. His departure comes days after former WIldrose and Progressive Conservative MLA Ian Donovan announced he was leaving the UCP, citing "dictatorship"-like control by Kenney and central party officials.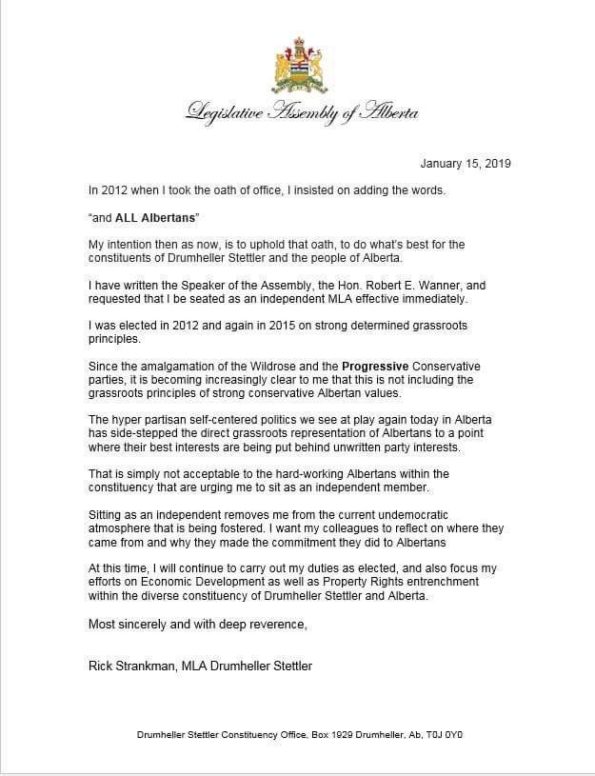 ---
Listen and subscribe to the latest episode of the Daveberta Podcast on Apple Podcasts, Google Play, Stitcher, or wherever you find podcasts online. We would love to hear what you think of this episode, so feel free to leave a positive review where you download, comment on the blog, Facebook or Twitter or send us an email at podcast@daveberta.ca.