With little appearing to have changed after Sunday's pipeline summit in Ottawa, the political dispute over Kinder Morgan's Trans Mountain Pipeline continues to escalate.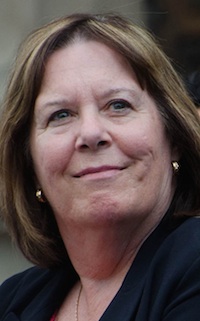 In Edmonton today, Alberta Energy Minister Marg McCuaig-Boyd introduced Bill 12: Preserving Canada's Economic Prosperity Act. The bill would give the Minister of Energy sweeping powers to "make an order directing an operator to cease transporting natural gas, crude oil or refined fuels in the operator's provincial pipeline, or by the operator's railway or commercial vehicle."
It makes February's wine boycott sound cute.
Use of the powers included in Bill 12 could have serious political and economic consequences for Alberta and BC. Ceasing the transport of oil and gas to BC could convince BC Premier John Horgan's government to back down from its opposition to the pipeline expansion, but it could also backfire by escalating political tensions between the two provincial governments.
There is a little bit of irony in the Alberta government granting itself the powers to slow down the shipment of oil and gas to BC. The BC government's initial move to limit shipments of diluted bitumen 11 weeks ago, a move Notley then described as unconstitutional, is what escalated the current political dispute between the two provinces.
It is not clear whether Premier Rachel Notley's government would actually ever use the powers include in Bill 12. But at the rate this political dispute is escalating, I would not be surprised if McCuaig-Boyd started threatening to turn off the taps by next week. It feels very Lougheedian, but without the $100/barrel oil.
Bill 12 will likely get unanimous support from the Jason Kenney-led opposition, leaving Alberta's lone Liberal MLA as its only critic in the Assembly.
"The NDP Government wants extraordinary powers to interfere with the oil and gas industry but won't provide specifics or limitations on those new powers," said Calgary-Mountain View Liberal MLA David Swann, criticizing the the lack of details in Bill 12.
BC Environment Minister George Heyman says his government could take the Alberta government to court over Bill 12. "I'm not counting on Alberta taking extreme or unlawful actions, but if they do, we're prepared to defend British Columbia's interests with every legal means available," Heyman said.
Hogan says his government will continue with its legal case to determine if the province has the jurisdictional right to stop the project. But it is unlikely the court will rule on this case before the May 31, 2018 deadline imposed by Texas-based Kinder Morgan Inc., which succeeded in generating a quick response from the Alberta and federal government.
A political dispute, not a constitutional crisis or a broken country.
As the political rhetoric runs high, it is important to take a deep breath. We are not on the verge of a constitutional crisis, as Notley has suggested. The country is not broken, as Kenney suggested. And we do not need to call in the army to protect the pipeline from eco-terrorists, as former Alberta energy minster Rick Orman suggested on CBC radio this morning.
As David Moscrop wrote in Macleans last week:
"What we're seeing with the Kinder Morgan Trans Mountain pipeline debate is democracy, federalism, and the rule of law at work: a divided country working out their opinions on the matter, split jurisdiction actors pursuing their interests, responsive governments keeping their promises, political and legal battles across several sites of licit contestation—and, to boot, a market response of potentially pulling the plug on the project as shareholders vote with their confidence and their dollars."
BC MPs face civil contempt charges over acts of civil disobedience
Meanwhile, Green Party leader and Sannich-Gulf Islands Member of Parliament Elizabeth May and NDP MP Kennedy Stewart face criminal contempt charges after entering a 5-meter 'no-protest' zone surrounding Kinder Morgan's pipeline construction site on Burnaby Mountain. A conviction will not necessarily lead to the two MPs losing their seats in the House of Commons.
Section 750(1) of the Criminal Code, which applies to members of both the Senate and the House, stipulates the following:
Where a person is convicted of an indictable offence for which the person is sentenced to imprisonment for two years or more and holds, at the time that person is convicted, an office under the Crown or other public employment, the office or employment forthwith becomes vacant.