When MLAs gathered for the first sitting of the new Legislature today, the first piece of business they were required to conduct was the election of a Speaker of the Legislative Assembly, who will preside over debates and ensure that the established rules of behaviour and procedure are followed.
The Speaker is elected by MLAs through a secret ballot held at the beginning of each legislative session. Candidates are nominated by their colleagues on the floor of the Assembly and voting takes place immediately afterward. 
It has been fairly well known in most political circles that Olds-Didsbury-Three Hills MLA Nathan Cooper has had his eye on the Speaker's Chair. Cooper made his intentions known shortly after the election and as former interim leader of the United Conservative Party and opposition house leader, he was well positioned to take on the role. His lack of appointment to the UCP cabinet earlier this month was a pretty definite signal that he would have the support of Premier Jason Kenney and most or all of the UCP caucus in this election.
As has become the norm in recent years, the opposition also nominated a candidate for the Speaker's Chair. Edmonton-Mill Woods MLA Christina Gray nominated her New Democratic Caucus colleague, Edmonton-Manning MLA Heather Sweet in the election. Sweet had served as Deputy Chair of Committees during the previous Assembly. 
Not surprisingly, the UCP majority elected Cooper as Speaker.
The election of a Speaker through a secret ballot is a relatively new invention in Alberta politics. Before 1993, when the first secret ballot vote took place, the Premier's choice for Speaker was typically acclaimed by the Assembly.
An exception that I discovered was in 1922, when a United Farmers of Alberta MLA surprised the Assembly when he nominated a Conservative opposition MLAs to challenge Premier Herbert Greenfield's chosen candidate for Speaker. The Conservative MLA declined the nomination and Greenfield's choice was acclaimed.
Here is a look at a few of the contested Speaker elections held since 1993:
2015: When MLAs gathered for the first sitting of the legislature following the 2015 election, Medicine Hat NDP MLA Bob Wanner was elected as Speaker. Wanner faced Calgary-Lougheed Progressive Conservative MLA Dave Rodney. The Wildrose opposition attempted to nominate others challengers in a strange attempt to disrupt the process. Wildrose MLAs Angela Pitt and Leela Aheer nominated NDP MLAs Stephanie McLean and Marie Renaud and PC MLA Sandra Jansen, all who declined their nominations.
2008 and 2012: Edmonton-Centre MLA Laurie Blakeman was nominated by her Liberal caucus colleagues in the 2008 and 2012 Speaker elections and was defeated by incumbent Speaker Ken Kowalski in the first election and Edmonton-Mill Creek Progressive Conservative MLA Gene Zwozdesky in the second election.
1997: Barrhead-Westlock PC MLA and former deputy premier Ken Kowalski was elected as Speaker on the second round of voting over Dunvegan MLA Glen Clegg after Highwood MLA Don Tannas was eliminated on the first ballot. Liberal leader Grant Mitchell nominated then-Liberal MLA Gene Zwozdesky as a candidate for Speaker, but he declined to stand.
It is believed that the 18 Liberal MLA votes in that Speaker election helped secure Kowalski's over Clegg, who was seen as Premier Ralph Klein's preferred choice. Kowalski's comeback happened a short three years after he had been unceremoniously booted from Klein's cabinet.
1993: Liberal leader Laurence Decore nominated Edmonton-Gold Bar MLA Bettie Hewes as speaker in 1993, the first time the Speaker was elected by secret ballot. Hewes was defeated by PC MLA Stan Schumacher.
---
Speaker punches newspaper publisher over wife-swapping allegations, 1935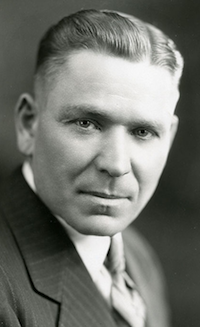 A glance through the history of Speakers of Alberta's Legislative Assembly reveals some fascinating stories. One story really stuck out.
In 1935, Speaker Oran McPherson is reported to have engaged in a heated argument at the top of the rotunda's grand staircase with Edmonton Bulletin publisher Charles Campbell, who McPherson accused of spreading lies about his divorce. McPherson punched Campbell and he hit a railing and banged his head on a pillar.
It had been reported that McPherson was arranging a "wife-swap" with the aide-de-camp to the serving Lieutenant Governor.