Going through some files last night I rediscovered some screenshots of newspaper advertisements from Alberta's 1967 election. I posted them on Twitter and Instragam earlier today, but as fast as those social networks flow the images will be lost in the feed before long, so I thought I would share them here as well.
But first, a little bit of background on the significance of the May 23, 1967 general election in Alberta:
It was the seventh and final election in which Premier Ernest Manning led the Social Credit Party, which had formed government since 1935. Social Credit MLAs were elected in 55 of 63 districts but this election marked the first time since 1955 that the party earned less than half of the popular vote. It would be the last time Albertans elected the Social Credit Party to form a government.
It was the first election that Peter Lougheed led the Progressive Conservatives. The party formed official opposition with six MLAs, including future premier Don Getty and former PC Member of Parliament Hugh Horner, who acted as Lougheed's rural lieutenant. The party had been shut out of the Legislature in the 1963 election.
It was the last time until 1986 that the Liberal Party elected MLAs, three, to the Legislature. Party leader Michael Maccagno was re-elected in Lac La Biche, a district he had represented since 1955. Also standing as Liberal candidates were well-known Calgary Liberal Daryl Raymaker, who ran in Calgary-Queens Park, and J. Bernard Feehan, father of current Edmonton-Rutherford NDP MLA Richard Feehan, who ran in Edmonton-West
The first New Democratic Party MLA elected to the Legislature in Alberta, Garth Turcott, was defeated. He became an MLA after winning a by-election in Pincher Creek-Crowsnest in 1966. Party leader Neil Reimer succeeded in increasing the party's vote to 15 per cent, an increase of 6 per cent from the previous election, but the party failed to elect any MLAs.
Future NDP leader Grant Notley was defeated in Edmonton-Norwood. Alderman Ivor Dent was unsuccessful as the NDP candidate in Edmonton-North East but would be elected mayor in the 1968 election.
Defeated PC Party candidates in this election included future Prime Minister Joe Clark, who lost by 461 votes to Social Credit MLA Art Dixon in Calgary-South (Dixon would go on to defeat PC candidate and future Lieutenant Governor Norman Kwong in 1971).
This election marked the last time an Independent candidate was elected in a general election. Independent Clarence Copithorne defeated Coalition MLA Frank Gainer in Banff-Cochrane.
As far as my research could find, this was the first election that included an in-person leaders debate. Manning, Lougheed, Reimer and Maccagno gathered at a debate sponsored by the City Centre Church Council and held in downtown Edmonton. The leaders fielded questions from the audience in the packed church. This was the last time party leaders would meet for a debate until the 1993 election.
This was the last provincial election where the voting age was 21 years old and the first which allowed voting by Indigenous people with Treaty Status.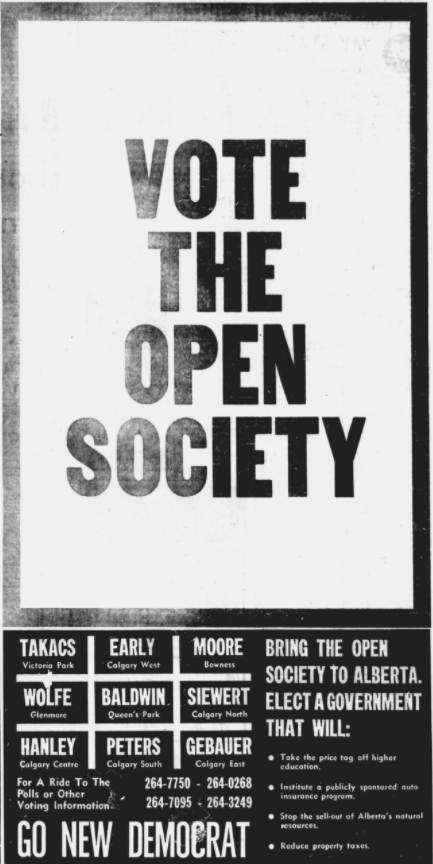 All of these ads were found in the Calgary Herald. If you liked these, check out some of the ads from Alberta's 1971 general election.