Photo: Calgary-Lougheed NDP candidate Phillip van der Merwe. (Photo source: YouTube)
A provincial by-election will be held in Calgary-Lougheed on Thursday, December 14, 2017.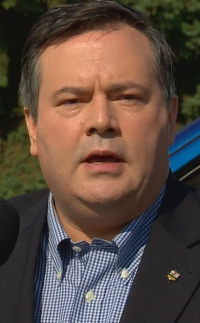 The by-election was necessitated by the resignation of United Conservative Party MLA Dave Rodney on October 30, 2017 to allow his party's new leader, Jason Kenney, to seek a seat in the Legislative Assembly. Kenney was officially nominated as his party's candidate earlier this week and is widely seen as the favourite to win the by-election.
"In this by-election, Calgary-Lougheed voters can tell the NDP to stop their job-killing policies, stop quadrupling the province's debt and stop raising our taxes," Kenney said in a press release, setting a curmudgeonly tone for the by-election campaign.
Along with a strong party organization in this fairly safe Conservative voting electoral district, Kenney will have the support of various Conservative political action committees.
The New Democratic Party will nominate physician Phillip van der Merwe as their candidate on Saturday, November 18, 2017. van der Merwe practices medicine at a Family Practice and Vasectomy Clinic in Calgary's Mission neighbourhood. He was the co-chair of the PCN Physician Leads Executive when Health Minister Sarah Hoffman announced a new agreement with the province's doctors to overhaul the primary care network system.
van der Merwe is also openly gay and married, which could create some interesting politics because of Kenney's opposition to the recently passed Bill 24, which prevents teachers from outing students who join Gay-Straight Alliances to their parents.
According to Elections Alberta financial disclosures, van der Merwe donated $1,500 to Alberta Party leader Greg Clark's campaigns in the 2014 by-election and 2015 general election in Calgary-Elbow.
van der Merwe told Postmedia's Don Braid that he was running for the NDP "because I don't believe the NDP is anything but a good centrist alternative for all Albertans … an inclusive and welcoming party."
The other parties have yet to announce their candidates, though there is speculation that new party leaders David Khan of the Liberal Party and Romy Tittel of the Green Party will join the race. The Alberta Party is also expected to run a candidate in this by-election.