Despite questioning climate science and refusing to remove one candidate who railed against a policy to protect sexual minorities in public schools and another who claimed his skin colour as a political advantage, Danielle Smith's Wildrose Party appears set to form a government after April 23.
If the Wildrose Party does succeed in electing enough MLA's to form a government next Monday, unseating the 41-year governing Progressive Conservatives, Albertans should be asking themselves about which parties are best positioned to form effective opposition over the next four years? This election is as much about a change of government as it is about a change of opposition parties.
The PCs have governed the province since Peter Lougheed led that party to its first victory in the 1971 election. Behind in the polls for the past three weeks, Alison Redford's PCs have begun to quietly urge non-conservative urban voters to cast strategic votes for their party to block the chances of the Wildrose Party forming a government. With six days left in the election campaign, it may be too late for the PCs or urban voters to block a Wildrose government.
After four decades in government, there may be no one left in the PC Party who remembers what it is like to be an opposition party (or may no longer have an interest in supporting that party in opposition). As a conservative opposition party it is also unclear what policy differences it could present to contrast itself with a similarly conservative governing party. As a new website launched today reminds voters, the PC Party also has its share of MLA's with extremist social conservative views.
The survival and success of the PCs as an opposition party may entirely depend on which Tory MLA's are elected on April 23.
Voters who want more than two conservative voices in the Assembly should ignore the calls for strategic voting and cast their votes for the candidates and parties who best represent their views.
The Alberta Liberals, led by former Tory MLA Raj Sherman, have presented a good platform that focuses on health care, education, municipalities, and touches on controversial issues like tax increases.
From an experience standpoint, the Liberal Party's slate of candidates includes a number of former MLAs, including Mo Elsalhy, Weslyn Mather, Bruce Miller, and Rick Miller, who served in the opposition benches from 2004 to 2008.
Unfortunately for the Liberals, being the official opposition since 1993 has not translated into their becoming the next government and the ingrained historical hostility felt by many Albertans towards the party suggests its chances of long-term growth are limited.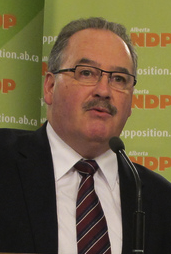 During this election campaign the NDP led by Brian Mason has focused on skyrocketing utility costs, taking a friendlier position towards resource development, and expanding and protecting public medicare. The NDP are in a good position to make gains in Edmonton. A number of NDP Members of Parliament, including Olivia Chow, Jack Harris, Niki Ashton, and Peter Julian are making campaign stops in the province during the final week of the election.
As an opposition party, the NDP would certainly provide Albertans with clear policy differences from both the PC's and the Wildrose Party.
Over the next four years, the Alberta Party may be in the best position to help build a real centrist-progressive alternative to a Wildrose Party government. Despite having never elected an MLA, the party has been punching above its weight during this campaign in terms of organization and media coverage. The question will be whether the party can survive as a political movement if it does not succeed in electing an MLA.
Candidates like community organizer Michael Walters in Edmonton-Rutherford and former school trustee Sue Huff in Edmonton-Glenora have been running strong local campaigns, which could produce some surprising results on election day.
Last weekend, more than 100 Alberta Party volunteers delivered flyers to 5,500 homes in Edmonton-Rutherford in less than an hour.