Photo: Laila Goodridge was sworn-in as MLA for Fort McMurray-Conklin on October 11, 2018 (source: Facebook)
Could an MLA first elected in a July 2018 by-election be at risk losing her nomination to run in the next election before the Legislature meets at the end of October? Fort McMurray-Conklin MLA Laila Goodridge is said to be facing a strong challenge from former Lac La Biche County councillor Gail Broadbent-Ludwig and former Wood Buffalo mayoral candidate Allan Grandson for the United Conservative Party nomination in the new Fort McMurray-Lac La Biche district.
Voting for the UCP nomination will take place on October 25 and 26, 2018, only days before the fall session of the Legislative Assembly begins on October 29, 2018. This will mark first time Goodridge, and fellow rookie MLA Devin Dreeshen of Innisfail-Sylvan Lake, will sit in the Assembly as MLAs.
The electoral boundary changes in northeast Alberta are significant. When the election is called, Fort McMurray-Conklin will be dissolved and Fort McMurray-Lac La Biche will be created, increasing the population of the district from around 26,000 to 44,166.
UCP MLAs Wayne Anderson and Rick Strankman, have recently faced defeat in their bids to seek their party's nomination to run in the next election. We discussed this nomination contest on the latest episode of the Daveberta Podcast.
Starke could run for re-election, for who?
Richard Starke is considering running for re-election, but it is not clear whether the Independent MLA for Vermilion-Lloydminster would run as an Independent candidate or join a political party before the election was called. Starke was elected as a Progressive Conservative in the 2012 and 2015, and would be expected to run for re-election in the new Vermilion-Lloydminster-Wainwright district.
"I have not decided yet whether I will seek a third term as MLA," Starke wrote when contacted. "If I run, it could be as an independent or I may seek a nomination for one of the parties. That decision will be made in due course; I have no timeline for any announcement."
Starke is recognized by Legislative Assembly Speaker Bob Wanner as a Progressive Conservative MLA, but that recognition does not mean much outside the Legislative Grounds in Edmonton. He declined to join the UCP Caucus when the remaining PC Party MLAs joined the Wildrose Official Opposition Caucus to form the new party in July 2017.
The remnant of the PC Party, which governed Alberta from 1971 to 2015, is now legally controlled by the UCP board of directors. This means, if he does decide to run for re-election, there is little to no chance Starke will be listed as a PC Party candidate on the ballot in the next election.
There has been speculation since 2017 that Starke would join the Alberta Party, which has become a refuge for many of his former PC Party colleagues, including many who endorsed him in that party's March 2017 leadership contest.
Starke would face at least seven challengers for the UCP nomination in Vermilion-Lloydminster-Wainwright, including his Wildrose Party challenger from the previous two elections, the wife of a retiring UCP MLA, and another past PC Party candidate. It seems unlikely that he would cross to the NDP, but stranger things have happened. 
Independent MLAs are rarely re-elected in Alberta. The last time an Independent candidate was elected to Alberta's Legislative Assembly was in 1982, when former Social Credit MLAs Raymond Speaker and Walt Buck were re-elected. They would form the Representative Party of Alberta in 1984 and were both re-elected under that party's banner in 1986. 
Alberta Party AGM
One of Starke's former colleagues, Doug Grittiths, will be delivering the keynote speech at the Alberta Party annual general meeting, being held on October 19 and 20, 2018 at the Edmonton Expo Centre.
Griffiths served as PC MLA for Wainwight from 2002 to 2004 and Battle River-Wainwright from 2004 to 2015, and served in cabinet with Starke as Minister of Municipal Affairs and Minister of Service Alberta. Griffiths endorsed Starke in the March 2017 PC Party leadership contest, as did former PC cabinet minister and current Alberta Party leader Stephen Mandel.
The Alberta Party has seen its legislative caucus expand from 1 to 3 MLAs over the past year with the addition of former NDP MLA Karen McPherson and former UCP MLA Rick Fraser, but the party has struggled to generate excitement among voters. Four public opinion polls released since April 2018 show support for the Alberta Party ranging from 5.1 percent to 11 percent province-wide.
Mandel has had a bit of a rough few weeks ahead of this annual meeting, first scrambling to explain to his party's membership why he agreed to meet with the right-wing Parents for Choice in Education group, disqualifying Yash Sharma as the party's nominated candidate in Edmonton-Ellerslie, and defending a poorly delivered and tone-deaf comment about women in politics.
kd lang named to the Alberta Order of Excellence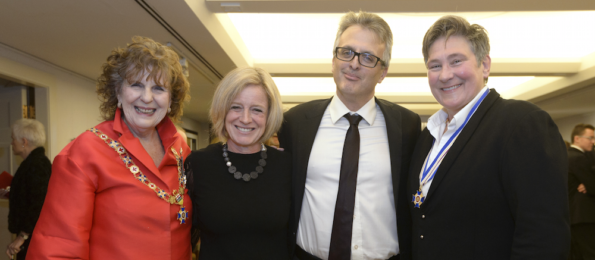 Singer and song-writer kd lang has finally received the recognition she deserved this week as she was awarded to the Alberta Order of Excellence. The honour granted to to lang was praised by Premier Rachel Notley, who tweeted that she is "a trailblazer, opening doors and bravely championing many causes, including LGBTQ2S+ rights." Notley's congratulatory comments are a far cry from the backwards attitudes and actions of some Alberta MLAs twenty-five years ago.  
In January 1993, Alberta PC MLAs blocked a motion to congratulate lang on her musical awards and achievements. Some rural PC MLAs were said to be annoyed at anti-beef comments she had made a few years before, but that was not the only reason. The Globe & Mail reported in January 1993 that some backbench PC MLAs said they did not support sending a message of congratulations to the singer because she had openly declared she is a lesbian.
"Frankly, it makes them look very bad," said William Roberts, the Edmonton-Centre NDP MLA who introduced the motion to congratulate lang. "I think people would say there are a lot of narrow-minded people in Alberta."
lang had only a short, cryptic message for her detractors at the time: "Free your mind and the rest will follow."