"Danielle Smith will probably yell and scream. Brian Mason will yell and scream. They really don't care about the City of Edmonton, I guess, but I would hope they would be wise enough to see it's about Edmonton." – Mayor Stephen Mandel (December 18, 2012)
Edmonton Mayor Stephen Mandel took swipes at NDP leader Brian Mason and Wildrose leader Danielle Smith as the latest saga of the never-ending debate over Edmonton's downtown arena entered a new phase. The two provincial party leaders have been vocal critics of the proposed downtown arena funding formula and the Mayor's proposal for the provincial government to provide $100 million in funding.
While his eight-year occupancy in the city's executive office has generally been positive, Mayor Mandel has become known for making hot-headed abrasive comments about his critics (see the quote at the top of this post). Perhaps the most notable example was when Mayor Mandel admonished Members of Parliament after the federal government denied funding for Edmonton's poorly communicated Expo bid in 2010.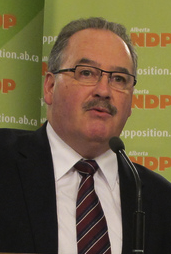 As for yesterday's comments directed towards the two provincial leaders, Mayor Mandel previously sparred with Ms. Smith when the rookie politician from Calgary waded into the heated City Centre Airport debate in advance of the 2010 municipal election. In an interview with the Edmonton Journal, Ms. Smith, who has been a harsh critic of provincial government spending, said she will propose a new lottery funding model for Mr. Katz's arena in the new year.
Mr. Mason, a former City Councillor, is a veteran of Edmonton's Peter Pocklington-era and appears to have enjoyed the opportunity to jump into the Katz funding fray.
The latest phase in the never-ending downtown arena saga
After the Katz Group surprised Edmontonians in September 2012 by rejecting a generous funding formula that had been agreed to earlier this year, an envoy representing billionaire pharmaceutical baron Daryl Katz, owner of the locked-out Edmonton Oilers, informed City Council of Mr. Katz's desire to restart negotiations to fund the new arena.
Last week, the Katz Group's envoy appeared with a request to appear before City Council, which they did last Wednesday. It is suspected that Mr. Katz is beginning to see his window of opportunity may be closing. With a municipal election being held next fall, Mr. Katz could lose one of his strongest allies, Mayor Mandel, who is considering seeking re-election. If a new agreement is not reached before next summer, Mr. Katz's costly venture risks becoming a defining issue of the October 2013 vote, which might not play out to his benefit (the Katz Group was strategically silent during the 2010 election).
Yesterday, Mayor Mandel once against began pressing the downtown arena issue, saying that a new deal must be reached within the next six weeks (keep in mind that this issue has been simmering for years).
One of the biggest flaws of the original mega-deal between the City of Edmonton and the Katz Group was the absence of $100 million in funding. Mayor Mandel has been adamant that the provincial government will fill the revenue gap, despite continued assurances from Premier Alison Redford, Finance Minister Doug Horner, and Municipal Affairs Minister Doug Griffiths, that this will not happen. With the provincial budget likely to be the largest political battle of 2013, the cards are likely not to be dealt in Mayor Mandel's favour.
The Wildrose Party's candidate for Mayor?
On another topic, while the Wildrose Party continues its permanent negative campaign against the provincial Tories into the new year, a party organizers tells me that a a group of Wildrose Party supporters in Edmonton are quietly searching for an ideologically-sympathetic candidate to run in next year's mayoral election (he suggested that right-wing Councillor Kerry Diotte would suitably fit into the Wildorse Party mould).