A former MLA has filed a complaint with the Progressive Conservative Party in response to an email sent by Jason Kenney's leadership campaign to party members in a constituency northeast of Edmonton.
The complaint launched by Jacquie Fenske, who served as the MLA for Fort Saskatchewan-Vegreville from 2012 to 2015, alleges that an email sent from Mr. Kenney's campaign misused the name of a prominent community member who is not supporting his campaign. The individual's name was included in a list of pro-Kenney candidates standing in that constituency's Delegate Selection Meeting on Nov. 17, 2016 in Bruderheim.
The individual's name was used in Mr. Kenney's campaign email even though she was not running to be a delegate in the PC leadership race and claims to have never met or spoken with Mr. Kenney. Both the individual and Ms. Fenske are supporting Vermilion-Lloydminster MLA Richard Starke's leadership bid.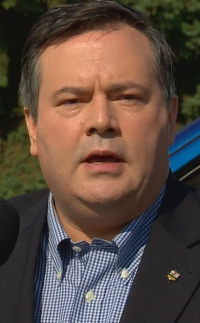 Ms. Fenske's complaint, which was emailed to PC Party Edmonton vice-president Robert Parks on Nov. 19, 2016, is divided into two sections.
The first section reads: "I believe that what the campaign did was unethical and most likely illegal. They circulated an email within the constituency that contained false information and abused an individual's name and  reputation.  I will leave the issue of protecting the privacy of her name to her to deal with. What I wish to complain about is the practice of purposely misleading the public by stating she was in support of Jason Kenny, which you can plainly see from her email she was not. Not only that she never registered to be a delegate. Knowingly circulating false information is wrong."
The second section of the complaint alleges that because the name used in the email is the name she chooses to be called, which is different from the full name included in the local PC Party membership list, that Mr. Kenney's campaign purposely included her chosen name in the email to increase the credibility of their slate of delegates.
"Did they know it is wrong?  Of course." Ms. Fenske wrote.
"If this is happening here then I must ask 'where else'? If we do not do something about this it drags not only the party into question but also the wonderful people and volunteers who truly do care about this party and about ensuring Albertans are well represented. This is unacceptable and has gone beyond a mere slap on the wrist or fine in my opinion," Ms. Fenske wrote.
Ms. Fenske told the author of this blog that she does not expect the results of the DSM to be overturned but that she does expect the party to enforce privacy rules. She suggested that she may file a complaint with the provincial Information and Privacy Commissioner if the party does not address the misuse of a party member's name.
Ten delegates supporting Mr. Kenney's leadership bid were elected at the DSM held in Fort Saskatchewan-Vergreville on Nov. 16, 2016. A total of 15 delegates were elected.
Mr. Kenney's campaign was fined $5,000 for rules infractions at the DSM in Edmonton-Ellerslie on Nov. 16, 2016 and another complaint is being filed against him for his actions at the Spruce Grove-St. Albert DSM on Nov. 17, 2016.
---
NDP MLA gets security protection
Facing online harassment and death threats, Calgary-North West MLA Sandra Jansen will now receive protection from the provincial government's Executive Protection Unit.
Claiming she was harassed and intimidated by Mr. Kenney's social conservative supporters at the party's recent convention, Ms. Jansen abandoned her bid to lead the PC Party and crossed the floor from the PCs to join the NDP on Nov. 17, 2016. She spoke publicly yesterday about the threats and disgusting harassment she has been receiving because she is a women in elected office.