Elections Alberta released the financial disclosures showing the results of political party fundraising in the second quarter of 2017.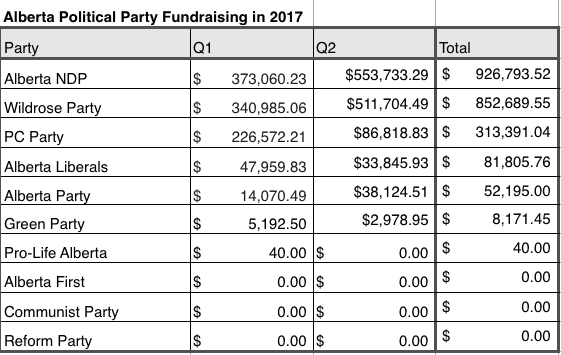 Combined party and constituency fundraising results show the governing New Democratic Party in the lead in for the second consecutive quarter of 2017, having fundraised $553,733 between April 1, 2017 and June 30, 2017, a jump from $373,060 raised by the NDP in the first quarter of 2017.
The Wildrose Party raised $511,704, up from $345,125 in the first quarter, and the Progressive Conservatives raised $86,818, a steep drop from the $226,572 raised in the first four months of 2017. The the Alberta Party raised only $38,124.51 and the Liberal Party raised $33,845.93 in the same period.
The NDP have raised a combined total of $926,793 in the first two quarter of 2017, while the Wildrose raised $852,689 and the PCs raised $313,791.
This is the second fundraising quarter to fall under new political finance laws introduced by Democratic Renewal Minister Christina Gray in 2016, which lowered the maximum annual donation limits from $15,000 to $4,000. This followed reforms introduced by the NDP in 2015 that banned corporate and union donations to political parties and candidates.
Here is a quick look at the top donors for each of the five main political parties in Alberta in the second quarter of 2017:
Alberta NDP
Kathleen Feehan – $4,000
Allan Kettles – $4,000
Don Smith – $4,000
Tom Boyce – $2,718
Ericka Simonelli – $2,650
Anne McGrath – $2,407
Wildrose Party
Cheryl Wilei – $4,500
Paul Doucette – $4,000
Arlene Goodchild – $4,000
Sterling Goodchild – $4,000
Tasker Goodchild – $4,000
George Janzen – $4,000
Len McCullah – $4,000
Jennifer Swertz – $4,000
PC Party
John Peter – $4,000
Stanley Milner – $4,000
Heather Shaw – $4,000
Deborah Wall – $4,000
Jeff Boyce – $1,500
Wayne Foo – $1,500
Alberta Party
Rhondda Siebens – $4,000
Sharon Gutrath-Siebens – $3,000
Troy Wason – $1,700
Dale Huntingford – $1,500
Patricia Cochrane – $1,050
Liberal Party
Dan McLennan – $2,100
Grant Dunlop – $1,800
Bill Sevcik – $1,000
Raj Sherman – $1,000
Clifford Faden – $650
David Swann – $600
Nick Taylor – $600