Starke vs. Kenney: the lightweight match
Starting the day off, Richard Starke, the soft-spoken veternarian from Lloydminster entered the ring with his "Common Sense Plan" to save the Progressive Conservative Party from Jason Kenney's hostile takeover plans to merge it right-wing Wildrose Party.
The PC leadership race has largely been devoid of any other real issues or policy discussions and focused almost entirely on Kenney's takeover bid. Starke's plan was extremely light on details but here's what we know: he is open to a coalition between the two parties but he would keep the PC and Wildrose parties separate.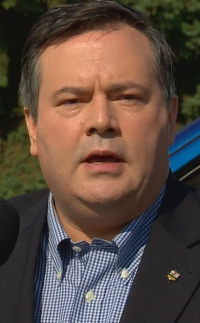 It is unclear if this means the two parties would not run candidates against each other, but that might be one way of salvaging the estimated $1.5 million currently sitting in the bank accounts of PC constituency associations that would be forfeit if the party was dissolved into the Wildrose Party.
Today's announcement was likely aimed at dislodging the significant lead Kenney has secured in the delegate selection meetings, but it feels like a desperate last grasp by Starke.
Jean vs. Kenney: The bare-knuckle round
Overshadowing Starke's plan is Wildrose Party leader Brian Jean's shot at Kenney. Jean announced today that he is prepared to step down as leader of his party to contest the leadership of a new conservative party, if one is created before the next election.
There had been speculation for months that Jean could avoid a messy leadership challenge by running for Mayor of Wood Buffalo in October 2017 instead of fending off a challenge from Kenney, but this appears to settle it. As leader of the Wildrose Party, Jean has been unofficially campaigning for months to bolster his bid to leader the conservative movement in this province by holding town hall meetings with supporters.
Jean took the reigns of his party from the edge of the political abyss after most Wildrose MLAs crossed the floor to the PC Party in 2014. He led the rural-based party to a swift recovery in the 2015 election but has faced challenges within his caucus and party ever since. His party has also been stuck in the mid-30 percent range in public opinion polls over the past year.
It is unclear whether Jean and Kenney would be the only two candidates to run for the leadership of a new Wildrose-dominated conservative party, or whether a third or fourth contender would enter the contest to lead this currently non-existent party.
---
Khan throws in the towel
Former St. Albert MLA Stephen Khan has dropped out of the PC leadership race. The former one-term MLA gave columnist Paula Simons a fairly damning description of the state of conservative politics in Alberta: "I wouldn't call it a dumpster fire. But I'd call it a destructive circus."
Here is an excerpt from his statement:
I was confident that this race would be one of ideas and hope for Alberta's future and I expected it to be a well-run and principled campaign. Instead, it has devolved into vitriol, anger and division. As such, I can no longer participate in this race in good conscience, nor ask my family, volunteers and supporters to do the same on my behalf.
We have seen the reputation of the PC Party damaged so badly over the course of this campaign that our credibility may be beyond repair. More concerning, we have seen volunteers, organizers, leadership candidates, members of the Board of Directors, our party President and even some PC caucus members harassed and threatened. It is clear that there is no room in this race for competing ideas and we have seen more anger and division in the last 3 months than in the half-century legacy of this party.
As I step down, I know other candidates in this leadership race will carry on the fight. I will remain a proud member and volunteer with the Progressive Conservative Party of Alberta. Going forward, I will put my support behind Richard Starke and I would ask my supporters to do the same.