Staying above the fray of Alberta's wild 2015 election campaign, Edmonton Mayor Don Iveson argued in his annual State of the City Address that which ever political party forms the provincial government after the May 5 election will have to focus on the capital city.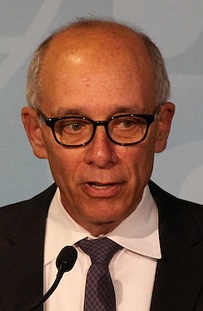 "I'm confident that no matter what Albertans decide on May 5, together you, along with our city council will not stand for any provincial government ever forgetting about Edmonton again," Mr. Iveson told an audience in downtown Edmonton.
At his final State of the City Address two years ago, former Mayor Stephen Mandel publicly lambasted the Progressive Conservatives for their short-sighted funding cuts to Alberta's colleges and universities.
"We should expect nothing less than passionate, relentless defence of this sector from our provincial representatives, who should know better than to just stand by," Mr. Mandel said in 2013.
Now as the PC candidate in Edmonton-Whitemud, Mr. Mandel has remained quiet about deep cuts to education funding included in the most recent PC budget.
The Edmonton Public School Board passed a budget this week that will not include enough provincial funding to compensate for the growth in student population in September, as a result of provincial budget cuts.
"If I have one key message for parents, it would be get out there and engage your candidates. Ask them how are you going to ensure that your party will fund my school? How will you ensure that my student will be successful as well as the other students in their class?," school board chair Michael Janz told the Edmonton Journal.
As we enter the final six days of the election, the parties will now focus their energy and resources on consolidating their support and working to get their voters out to the advance polls and on election day.
NDP leader Rachel Notley faced criticism last week after a meeting with the Calgary Chamber of Commerce. The Calgary Herald published a one-sided editorial criticizing the NDP proposal for a phased-in $15 minimum wage (which would ensure Albertans working full time earned at least $600 per week and around $31,200 per year).
While lobby groups like the Canadian Federation of Independent Business oppose the proposed increase, some economists, including Nobel Prize winner Paul Krugman, suggest an increase to the minimum wage as a means to stimulate the economy [via Ricochet].
The Progressive Conservative Party has not released any new policy positions since Jim Prentice announced last week that he would reopen the budget to reverse changes to the Charitable Donations Tax Credit. Since the leaders' debate, the PCs have focused their energies on attacking Ms. Notley, who the governing party appears to perceive as their greater challenger on election day.
In one of the more bizarre moments of the campaign, former Highwood PC MLA Danielle Smith jumped to Ms. Notley's defence on Twitter, claiming that the NDP leader's doubts about the success of the Enbridge corporation's Northern Gateway Pipeline project are similar to an opinion Mr. Prentice publicly expressed in September 2014.
Wildrose Party leader Brian Jean announced his party's plans for funding special needs education and a formula for funding municipal growth. And AlbertaPolitics.ca blogger David Climenhaga wrote one of the more comprehensive backgrounds on Mr. Jean and his Fort McMurray "rags to riches" story.
The PCs sent out a press release yesterday attacking Calgary-Bow Wildrose candidate Trevor Grover who was a candidate for the anti-free trade Canada Action Party in the 2006 federal election. If the PCs hope to win the "controversial candidate accusations game," they should reflect on one of their own nominated candidates who was arrested and plead guilty to prostitution related charges while travelling abroad on government business in December 2013.
The Alberta Party released plans to provide stable funding to post-secondary institutions and deal with municipal issues such as housing and public transit. The Liberals released plans to fix the health care system and accused the NDP of playing board games with finances. And Green Party leader Janet Keeping called for the adoption of an Environmental Bill of Rights [Ms. Keeping is running against Mr. Prentice in Calgary-Foothills].
Advance polls will be open across the province over the next four days from 9:00 a.m. to 8:00 p.m. Voters unable to cast a ballot on the May 5 Election Day can now vote on April 29 and 30, and May 1 and 2.
---
I made my debut on CBC Radio's The Current yesterday morning when I joined the National Post's Jen Gerson, the Edmonton Sun's Lorne Gunter and host Anna Maria Tremonti for a panel discussion about Alberta's election campaign.