In a typical provincial election in Alberta, the televised Leaders' debate is a mere formality in a process that would inevitably lead to the election of another massive Progressive Conservative majority government. Even when the perceived winner of the debate is the leader of an opposition party, the effects on the governing party have been relatively minimal. In the last election, expectations were set so low for Premier Ed Stelmach that his satisfactory performance was seen as a big win for the soft-spoken and stuttering communicator.
The only televised Leader's Debate during Alberta's 2012 will be held on April 12 and it could be a spectacle not seen in this province in decades (CBC is hosting a Leaders' forum, which will be broadcast on radio and live-streamed on the internet). It will be the first time that Premier Alison Redford and Wildrose Party leader Danielle Smith will debate each other face-to-face and also the first Leaders' debate for three of the four main party leaders (it is Liberal leader Raj Sherman's first televised debate).
All eyes will be on Premier Redford and Ms. Smith.
The debate will be Premier Redford's opportunity to turn the tide that has swept her 41-year governing Progressive Conservative Party into contention for official opposition status. Unlike her recent predecessors, she has the unfortunate task of having to answer for every misstep taken by her governing party for the past four decades.
This will be Premier Redford's big opportunity to deliver a pitch to moderate conservatives, liberals, and undecided voters that voting for the more conservative and untested Wildrose Party just is not worth the risk. Despite a rough six months as Premier, she is a skilled debater.
Calm and confident, Ms. Smith has been preparing for this debate for years. Despite having never been elected as an MLA or faced any of her political opponents on the floor of the Assembly, Ms. Smith has honed her political debating skills on and off television as a columnist with the Calgary Herald, a brief stint as a school trustee, a director of a right-wing lobby group, and party leader since 2009.
With Ms. Smith's party riding high in the polls, creating the real possibility that she could be our province's next Premier, expectations will be set high for her to perform well in this debate. I would be surprised if she does not meet these expectations, but the other leaders will be marking targets on her party's more controversial positions on conscience rights, de-listing abortion, attacking reporters, and privatizing health care. So far, the Wildrose leader has tried to avoid even commenting on most these issues, sticking to her highly disciplined and controlled campaign messaging.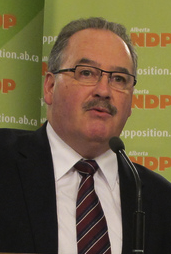 Entering his third election as leader of Alberta's NDP, Brian Mason has an opportunity to present Albertans with a clear alternative to the two leading conservative parties.
Following Ms. Smith's announcement that her party would introduce more privatization into Alberta's health care system, Mr. Mason jumped at the opportunity to get into the debate. With Edmonton-Calder candidate David Eggen by his side, Mr. Mason launched a campaign to "Save Public Health Care." The NDP are polling well in Edmonton, with a recent Leger survey showing them with 20% support in the provincial capital, which has always been the centre of NDP support in Alberta.
For Dr. Sherman, who left the Tory backbenches in 2010 and now leads the official opposition Liberal Party, the debate will be his biggest opportunity to save his party from third party status or even being completely shut out of the Assembly. The Liberals became the official opposition in 1993 and since then their support has steadily declined (with the notable exception of the 2004 election when Kevin Taft led the party to double its seats in the Assembly).
Health care has been a key focus of Dr. Sherman's campaign, and despite his professional expertise working in the Emergency Rooms of Edmonton's hospitals, the Liberals have not been able to turn this strength into growth in the polls. Having earned a reputation for being sporadic when put on the spot, Dr. Sherman will be the wild-card in the April 12 debate.
Searching for the knock-out punch
The most interesting aspect of televised leaders' debates, especially in elections where the results are not evident from the day the Writ is dropped, is that one misspeak or surprise Academy Award winning performance could potentially change the outcome on election day.
Most people will refer to Brian Mulroney's performance in the the 1984 federal election as the perfect example of a "knock-out punch", but this clip from the 1991 British Columbia provincial election remains one of my favourite. Watch as Liberal leader Gordon Wilson delivers the most famous soundbite of that election, which helped take his party from zero seats in the Assembly to seventeen.
(Thanks to Colby Cosh, whose tweets inspired this post)