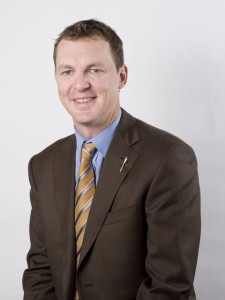 Sources tell me that Battle River-Wainwright MLA Doug Griffiths is expected to announce his entry into the Progressive Conservative Party leadership contest at 10:30am tomorrow morning at Mackay Avenue School in Edmonton.
Mr. Griffiths, currently the Parliamentary Assistant to the Minister of Finance, was first elected to the Assembly in 2002, and at the age of 38 will be the youngest candidate in the contest. In 2010, he released his first book based on a popular speech, 13 Ways to Kill Your Community.
An avid social media user, Mr. Griffiths placed very well among readers of this blog in the first PC leadership poll in January. Known for his open-minded approach and discussing policy areas that that are not the most popular among his party's establishment, like the potential for a Provincial Sales Tax, Mr. Griffiths is well positioned to tell PC Party members things that they may not like to hear, but need to discuss in order to renew as they approach 40 years in government. After Premier Ed Stelmach announced his resignation, a group of anonymous PC Party members started an online campaign to recruit Mr. Griffiths to join the leadership race.
Mr. Griffiths would be the third candidate to enter the contest, following Foothills-Rockyview MLA  Ted Morton and Spruce Grove-Sturgeon-St. Albert MLA Doug Horner.