While some staffers working for the Wildrose Official Opposition Caucus lost their jobs when leader Danielle Smith and 8 MLAs crossed the floor to the Progressive Conservatives before Christmas 2014, at least three former opposition staffers appear to have landed jobs working for the governing PC Caucus.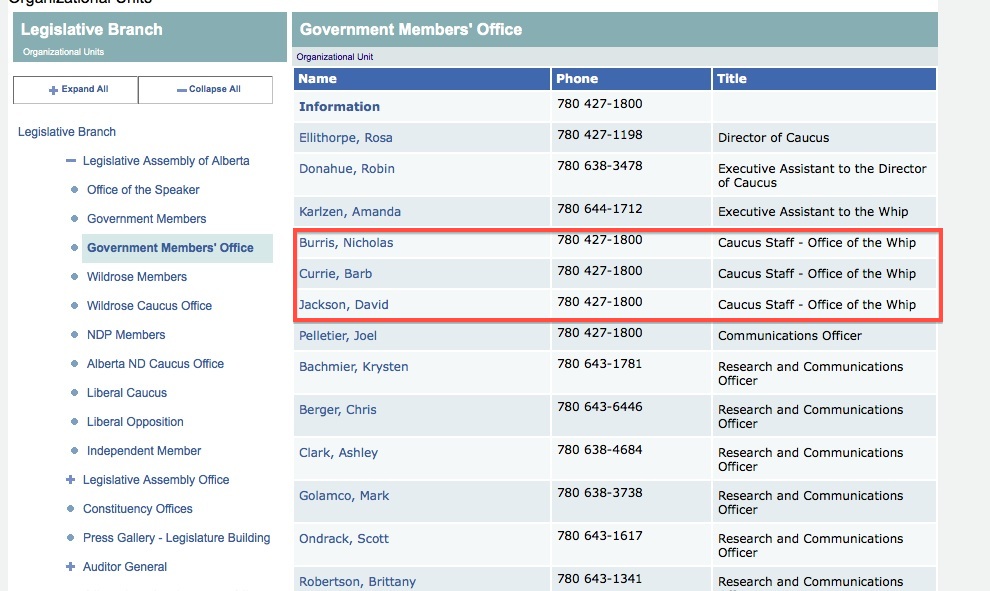 Appearing on the Government of Alberta staff directory with job titles "Caucus Staff – Office of the Whip" are former Wildrose policy and research analyst David Jackson, former assistant to the leader of the Official Opposition Barbara Currie, and former Wildrose legislative assistant Nicholas Burris.
It is unclear what their new roles and duties entail, as they appear to be new positions reporting to PC Caucus Whip George VanderBurg.
Former Wildrose Caucus Chief of Staff Steve Rennick is said to have been hired to work in the Office of the Premier, along with one or two other former Wildrose staffers.
It is suspected that Premier Jim Prentice will announce a cabinet shuffle within the first months of 2015 in order to appoint some of the former Wildrose MLAs to ministerial positions.
Double crossing mla to retire
Meanwhile, rumour that Airdrie MLA Rob Anderson could be appointed to cabinet following his floor crossing are sure to be put to rest after his recent announcement he will not be seeking re-election. Mr. Anderson was first elected in 2008 as a PC MLA, crossed the floor to the Wildrose Party in 2010 and then crossed the floor back to the PC Party in 2014. He was expected to face a serious challenge for the PC nomination if he sought re-election as that party's candidate in the next election.