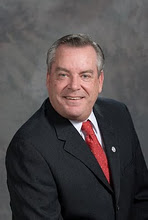 Jim Sheasgreen, former Mayor of the City of Fort Saskatchewan, has announced his intention to seek the Progressive Conservative nomination in the Fort Saskatchewan-Vegrevilleconstituency.
Mr. Sheasgreen served as Mayor from 2004 until 2010 and on City Council from 2001 until 2004. In 2010, Mr. Sheasgreen was defeated by current Mayor Gale Katchur.
Also seeking the PC nomination in this constituency is Strathcona County Councillor Jacquie Fenske.
The constituency has been represented by outgoing-Premier Ed Stelmach since it was created in 2004 and the area had previously been represented by both Liberal and PC MLAs. If elected, Mr. Sheasgreen will be the second former Mayor of Fort Saskatchewan to represent the area in the Assembly in recent history. Former Mayor Muriel Abdurahman represented the former Clover Bar-Fort Saskatchewan constituency as a Liberal MLA from 1993 until 1997.
According to FortRadio.com, the PC nomination in this constituency is scheduled to be held in Lamont on January 26, 2012.

(Thanks to Scott for the heads up on this story)
UPDATE: According to the Over Easy Please blog, Vegreville Mayor Richard Coleman has also entered the nomination contest. The OEP blog also reports that Tofield Mayor Nabil Chehayeb and Mundare Mayor Mike Saric have expressed interest in seeking the nomination, but have not officially joined the contest.