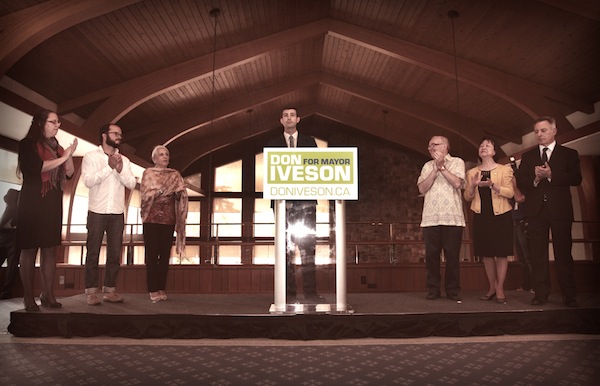 Councillor Don Iveson announced his candidacy for mayor this week, rounding out the list of the most likely candidates expected to run for Mayor of Edmonton this year. Councillor Iveson has represented south Edmonton on city council for two terms and is well-known as an advocate of sustainability and smart growth.
First elected to city council in 2007, Councillor Iveson defied expectations when he unseated Councillor Mike Nickel in the then-sprawling south Edmonton Ward 5. He was easily re-elected in 2010 in the new Ward 10 with 76% of the vote. He has served as chair of the Capital Region Board's Transit Committee and as a strong advocate for public education as a member of Edmonton's Public Library Board. At age 34, he is the youngest Councillor in the race and brings a wealth of unconventional ideas and energy to the contest.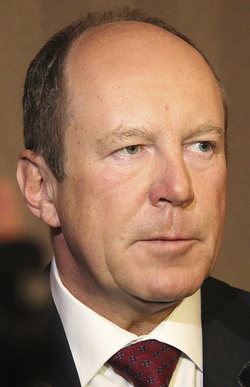 Over the past few months, I have attended the announcements of the three city councillors competing for the mayor's chair and it has been interesting to observe the differences in atmosphere and attendance.
On May 16, the day after Edmonton City Council voted to move forward on the downtown arena project, Councillor Kerry Diotte announced his candidacy to a group of seniors in a windowless hotel conference room. Councillor Diotte was not particularly articulate when he spoke with the media at this event, but his anti-downtown arena and anti-pothole agenda will resonate with a surprising number of Edmontonians frustrated with the current leadership in City Hall.
On June 12, Councillor Karen Leibovici stood in front of a crowd of supporters, including many of of Edmonton's corporate elite and political establishment, to announce her candidacy for mayor. Her campaign chose the brand new CKUA building, an institution embraced by our city's baby boomers, to launch her campaign. A formidable candidate with four-terms on city council and two-terms in the provincial legislature under her belt, Councillor Leibovici brings 27 years of electoral experience to her well-funded campaign. As she positions herself as the heir-apparent to Mayor Stephen Mandel's legacy, she may run into difficulties if she is too overcautious not to criticize the outgoing mayor.
On June 18, with supporters by his side, Councillor Iveson took to the podium at Edmonton's Petroleum Club to announce his entry into the mayoral contest. The venue was an odd choice for the articulate and nerdy policy wonk known for his smart growth politics and love of bicycles. Perhaps to ease the worries of some voters who may feel uncomfortable with this younger and more progressive candidate, Councillor Iveson sent a message that while we need to look at new ways of developing our city, the industries and business that drive our economy are essential.
While praising the work of retiring Mayor Mandel, Councillor Iveson has not been shy to provide examples of where Edmonton city council could have done better over the past six years – including doing a better job of convincing the provincial and federal governments to share the cost of the downtown arena project.
The vibe of the youthful crowd at the Petroleum Club was different than the other candidate's events. There was an unmistakable mood of optimism among those attending Councillor Iveson's announcement, many who looked like they would be ready to start knocking on doors for the candidate that afternoon. In many ways, this diverse group of young Edmontonians – entrepreneurs, lawyers, university students, and public servants – represent the new face of our city.
Edmontonians now have three contenders who realistically stand a chance of winning the October 21 mayoral election. It is going to be an exciting four months!
(Note: I have known Don Iveson for many years and volunteered on his successful City Council campaigns in the 2007 and 2010 elections and will be volunteering on his campaign in this election)