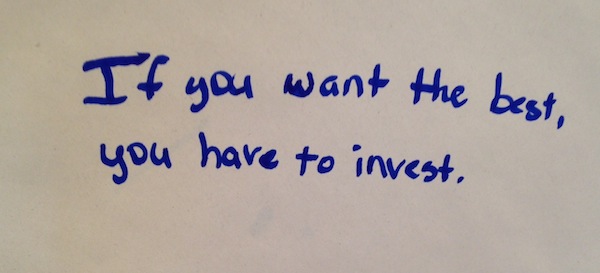 "We've been very clear that we will not be balancing the budget on the backs of students," Premier Alison Redford told the media at a press conference yesterday.
This statement is only partially true. The provincial government is not balancing the budget this year.
Gathered to re-announced what Deputy Premier Thomas Lukaszuk casually announced off-the-cuff last week, Premier Alison Redford and her loyal Deputy declared yesterday that the provincial government provide an extra $16.5 to post-secondary institutions to cover next year's expected 2.5% tuition increase for students. The government has framed the move as a tuition "freeze," but it is really a one-time subsidy to hide a fee increase, as the institutions will be implementing tuition increases regardless.
So, the good news is that students will not be paying more out of their pockets in tuition next year. The bad news is due to provincial budget cuts, class sizes will be larger and there will be fewer instructors. This is, of course, if your program has not been cancelled.
Deep cuts to the provincial government's post-secondary education budget has led Alberta's universities and colleges to announce staff layoffs, program cutbacks and, in some cases, complete program eliminations. Mount Royal University, Grant MacEwan, NAIT, Lakeland College, and Athabasca University have announced cuts to programs and staff that will affect the quality of education Alberta students will receive in the coming years.
Yesterday's announcement, like the Deputy Premier's focus on Campus Alberta logos and mandate letters, is meant to distract the public from the affects the deep budget cuts. The  fake tuition freeze and orders from Deputy Premier Lukaszuk that all institutions implement a three-year wage freeze in all future staff contracts, could drive a wedge between students and post-secondary staff, who have remained unusually unified in speaking against the budget cuts.
Unlike the broad-sweeping budget cuts implemented during Premier Ralph Klein's time in office, post-secondary education is a main target in Premier Redford's cuts. These cuts may be an indication as to why the soft-spoken former Advanced Education Minister Stephen Khan was shuffled out of cabinet earlier this year in favour of the more aggressive and heavy-handed Deputy Premier Lukaszuk.
Alberta's two big city mayors are united in displeasure over the cuts.
Speaking to an audience of 2,000 people earlier this month, Edmonton Mayor Stephen Mandel shamed the Redford government at his annual State of the City Address:
"When I see Edmonton's key growth sector — our post-secondary institutions — placed in a position of fundamental uncertainty, I worry that a new era of 'good-enough' thinking is poised to undermine our long-term sustainable prosperity" – Edmonton Mayor Stephen Mandel (April 2, 2013)
Calgary Mayor Naheed Nenshi, an associate professor at Mount Royal University, penned an open letter to the institution's board of governors urging them to stand up to the provincial government.
I have been on record as saying that the provincial government has made a terrible error in its post-secondary education policy – great cities need great universities and great universities need government support. No doubt these actions have made your life very difficult. However, I would encourage the leadership of MRU to stand up to the provincial government on behalf of its students, faculty, and community, rather than capitulate to the government's bad policy. – Calgary Mayor Naheed Nenshi (April 17, 2013)