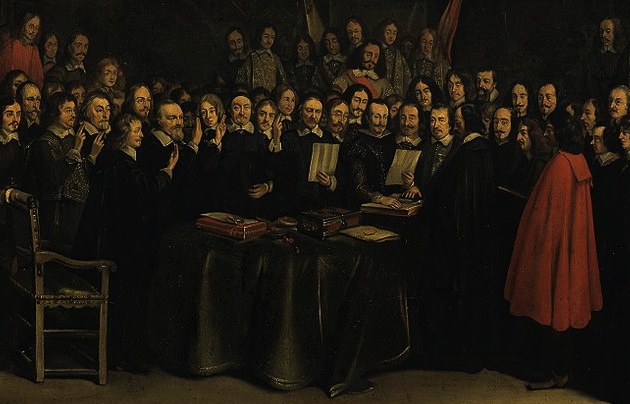 Bitumen bubbles and the unpredictable price of oil mentioned in last week's televised address have led Premier Alison Redford's Tory government to hastily called a one-day "Alberta Economic Summit" to continue a "conservation" about our province's current fiscal woes and potential fiscal future.
The summit will bring together 'leading thinkers, key industry, non-profit and academic leaders, Members of the Legislative Assembly and passionate citizens" for a day of panel discussions at Mount Royal University on February 9, 2013 (yes, that is ten days from now).
Despite the talk of "continuing the conversation" with Albertans, it is easy to be suspicious that the conference is a public relations exercise and a tool for the Tories to direct the public debate towards a certain direction. It seems difficult to image that any meaningful discussion about such complex issues could occur in such a short-period of time.
The government says it just wants to look at its options, which was a reoccurring theme in a discussion I had with Premier Redford last week. One option already off the table are tax increases, which despite growing public debate, the Premier says will not be in this year's budget.
"It has got to be about economic diversification and what we want our fiscal framework to look like," said Premier Redford when I asked her about what she would like to see come from the summit. "We want to engage people who give a lot of thought about these issues but don't always have a chance to spend time together," she said.
I asked the Premier if the Alberta Economic Summit was just a way for the government to deflect the public discussion away from taxes and toward a pre-determined answer. "We are not looking to deflect anything," she said.
"As we move ahead it would be folly to say that every decision we make without consulting with Albertans would be the right decision. We want to make sure we are talking to Albertans and making decisions that reflect Albertans values." – Premier Redford, January 25, 2013
If all this talk of a big summit about Alberta's economic future triggers hints of deja vu, you are probably not alone.
Eleven years ago almost to the day that the"Alberta Economic Summit" will be held, Premier Ralph Klein and Revenue Minister Greg Melchin held the "Alberta Future Summit" in Red Deer. The February 4, 2002 conference brought together 260 delegates to draft "strategic directions and ideas for action" for several areas identified as priorities – including the economy and fiscal responsibility.
The final report generated from the Future Summit included the following observation, which will sound familiar to anyone who tuned in to watch Premier Redford's televised address last week:
Despite rapid growth in manufacturing and services exports over the past 10 years, Alberta continues to rely heavily on primary resource exports (such as oil, gas, grains and oil seeds) and intermediate commodities (such as lumber, pulp and petrochemicals). Alberta's reliance on primary and intermediate resource exports makes the economy vulnerable. Economic and market diversification are key to future prosperity. – Alberta Future Summit 2002 final report
While I hope next month's Alberta Economic Summit succeeds in generating a meaningful conversation between Albertans and their government, I cannot help but think this summit is a partially a result of the Tories failing to act on some of the advice they heard at their last big summit in 2002.
——
Today, the government launched a online build your own budget tool budgetchoice.ca, which allows Albertans to cut and raise taxes, and see a simplified version of how the provincial ledgers balance.
Curiously, participants are not given the option of raising royalties on natural resources and some Tory pet projects are not included in the tool or partially protected, including the controversial Carbon Capture and Storage Fund (CCS). The CCS Fund, intiated by Premier Ed Stelmach in 2010, directed $2 billion towards research with the private sector into the unproven technology that some large energy companies have abandoned. Of the more than $200 million expected to be budgeted for CCS in this year's budget, only $60 million is available to be cut in the online budget scenario tool.