Until its licence was temporarily suspended on September 27, more than one-third of Canadian beef was processed in the XL Foods plant in Brooks, Alberta. The plant processed 4000 cows a day and produces 3000 steaks each minute. The sheer size of this plant raises serious questions about the centralization of the packing industry in Canada and the implications for food security after E.coli contamination in beef produced at the plant has poisoned 10 Canadians. Meanwhile, new E.coli cases in British Columbia and Hong Kong are reported to be linked to XL Foods.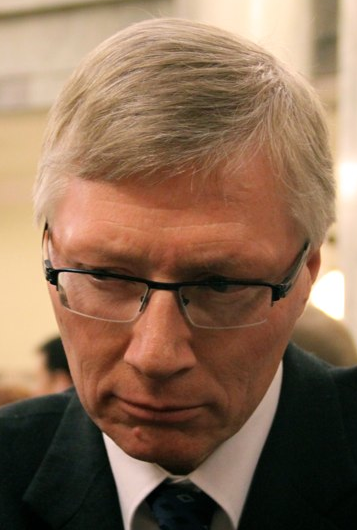 Premier Alison Redford and Agriculture and Rural Development Minister Verlyn Olson spoke out in support of Alberta's beef industry, but avoided directing questions to federal Agriculture Minister Gerry Ritz about why the federal Canadian Food Inspection Agency took more than ten days longer than their American counterparts to identify the problem.
XL Foods and their parent company Nilsson Brothers Inc. have done an incredible job sowing confusion among Canadians by refusing to speak with the media, only releasing a pre-recorded audio statement late last week.
In 2005, Brian Nilsson and Lee Nilsson, co-CEOs of Nilsson Brothers Inc., XL Foods parent company, were selected as Alberta Venture Magazine's Top 50 Most Influential Albertans for their role as "major players in Alberta's beleaguered beef industry." In 2012, it appears that they have reassumed this role, though not as the champions of the beef industry that they were eight years ago.
As Globe & Mail health columnist Andre Picard wrote this week, "transparency is the hallmark of good crisis communication," and in the case of this E.coli contamination, this is a textbook case of failing to communicate. As Mr. Picard's wrote in his column, the communications failure is a result of foot-dragging and inappropriate beef boosterism from XL Foods, the Canadian Food Inspection Agency, and Minister Ritz.
"When you're poisoning people, even unintentionally, a voice message three weeks into the outbreak doesn't cut it, nor do ministerial blandishments, nor do CFIA press releases whining that "investigations into outbreaks of food-borne illness can be complex." – Andre Picard (Globe & Mail, October 7, 2012).
Also ignoring the opportunity to discuss food safety issues in the beef industry is Wildrose Party leader Danielle Smith, who will be hosting a lunch-hour 100% Alberta beef barbecue on the Legislative Assembly grounds. Ms. Smith, Little Bow MLA Ian Donovan and Strathmore-Brooks MLA Jason Hale will play the role of champions of Alberta's beef industry while serving beef burgers at the October 10 lunch (hopefully they will be thoroughly cooked).
New Democrat leader Brian Mason appears to be the only Alberta politician raising questions about the federal government's role in food safety, questioning recent budget cuts to food inspection.
Some might point to Mr. Mason's comments as a partisan response, which would not be incorrect, but his is a position not limited to the political left. As was pointed out by Calgary Herald columnist Don Braid, Saskatchewan's conservative Agriculture Minister Lyle Stewart has not shied away from demanding answers from the federal government since the E.coli outbreak was first detected.
Premier Redford and Alberta's legislators should be standing up for the beef industry not by retreating to old populist tendencies, but by demanding answers from XL Foods, the Canadian Food Inspection Agency, and Minister Ritz to ensure that this does not happen again.