Gary Mar resigned today from his position as Alberta's Representative in Washington DC, fuelling the speculation that the former cabinet minister will soon join the Progressive Conservative leadership contest.
Some of the more recent rumours predicting Mr. Mar's entry into the leadership contest were based around a late February meeting of supporters, including Klein-era political operator Rod Love.
More concrete proof of Mr. Mar's candidacy landed in my email inbox this afternoon when a reader emailed me a screenshot of a Secret Group on Facebook, named "Gary Mar's Peeps." It appears as though this secret Facebook gathering place for Mr. Mar's supporters has been up and running for the past month. Its content includes links to news stories, blog posts, and questions from group members ranging from where to send campaign donations to how to respond to chatter on Twitter.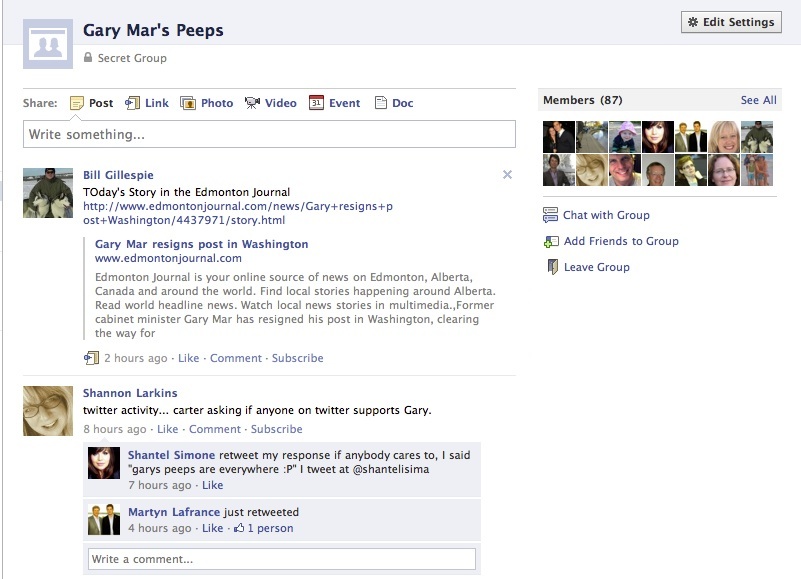 The 87 members of the invite-only Facebook group are an interesting camp of PC Party members. Some of the notable names in the members list include Jim Dinning's 2006 campaign chairman Brent Shervey, Calgary-Nose Hill MLA Neil Brown, Drayton Valley-Calmar MLA Diana McQueen, Edmonton-Rutherford MLA Fred Horne, former PC Youth President Courtney Luimes (who is currently the Executive Assistant to Energy Minister Ron Liepert), Airdrie-Chestermere PC Association President Janice Harrington, co-chair of the PC Party's 2008 election platform committee Brenda Barootes, and pollster Janet Brown.
A person's membership in a Facebook may not necessary translate into an official endorsement, but the exclusivity of this invite-only secret group may suggest that its members have a higher level of commitment towards Mr. Mar than if it were a regular public Facebook Group.