As an attempt to gauge the voting intentions of the readers of this blog, I posted the a poll on the sidebar on the evening of Tuesday, December 6. The poll was open to voters until 9:00pm on December 8, 2010 and attracted 592 votes. As I mentioned, the intention of this poll was to take a snapshot of where the readers of this blog were sitting politically (thank you to everyone who voted).
I was at first surprised at how many Progressive Conservative supporters read this blog and I was soon informed that the PC Party had sent a message to the members of their online forum encouraging them to vote in this online poll. I do not have a problem with this. While I am first flattered that the PC Party thinks I am "popular" it also shows how seriously they are beginning to understand the importance of the Internet in the run up to the next election (which is a significant change from two years ago). As far as I am aware, the support for the Alberta Party and Wildrose Alliance was not prompted from the parties, so I was surprised that they placed so much higher than the Liberal and NDP among readers of this blog. It is not scientific or even statistically accurate, but might be one indicator of which parties have the most active champions online.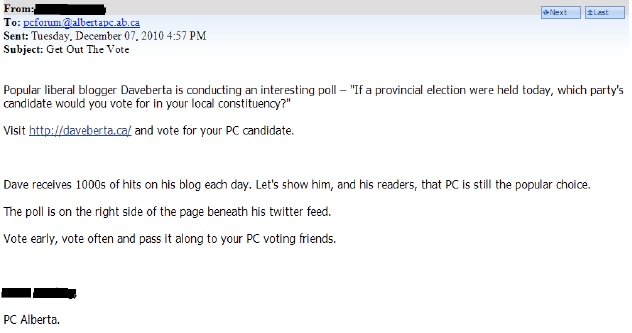 I have been surprised at how quickly many political watchers have begun to write the political obituary for the long-governing PC Party. At its weakest state in decades, the PC Party is still the best organized and most well-funded political machine in the province and should not be underestimated by its challengers. Even if future history books show that the PC Party entered its decline in 2010, I imagine that we are still far off from hearing the loudest "thump" of this political institution.
(Thanks to @BrockWHarrison for the screenshot of the PC email)